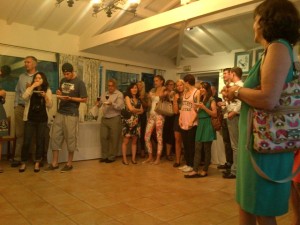 … so I just completed my first week at the Institute, and as previous reviewers had written, the week goes by very fast! If you come here and you have any hopes of spending le weekend in St. Tropez, think again — I have MOUNDS of not just homework, yet hundreds of handouts from this week.
They include:
1. How to speak in the past tense
2. How to speak in the future tense
(tip, the above are not as difficult as they seem, yet it is a matter of mastering the right verbs)
3. How to tell time
4. How to speak and understand numbers (quickly if possible). If you have ever been behind a foreigner at Starbucks in New York, carefully counting out thousands of pennies for a $2.45 coffee you know what I mean).
5. standing in front of a mirror, with a pencil on my nose (yes, mon professor said this) and making the pencil jump by pronouncing nasal vowels. Ten times a day, am/pm
6. Studying a pamphlet on grammar
Last night we had a party where we were allowed to speak English. It was fun as far as school parties go with a Sangria punch and lots of fresh looking food like veggies, fruit, some tiny French pastries, cheese.
Students made an attempt to dress up.
We all played some silly games (musical chairs, etc) from childhood.
Today I am going to attend yet another activity – a tour of Villefranche – and then go to Nice for Le Shopping and Lunch and return for an afternoon of study (what I have been doing all morning).
…. and the wine, you ask? Well, Sangria does not count. The local stores have questionable stock. I saw a bottle of wine from Graves (quite dusty, unknown producer) from 2004 marked at five Euros.  Villefranche is a small town, though, and perhaps Nice and especially Monaco have top notch stores with world class wines.