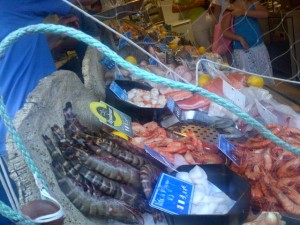 Today I arranged to spend the day in Antibes with two other students. I arranged to meet them at the train station in Villefrance, which is about a half hour from my apartment in a series of winding roads that takes you up and down in the 100 plus degree weather.
A big sign on the train station suggested it was closed, yet it was simply a notice that there would be no humans available to assist. It is fairly easy to buy a ticket by machine, so it all worked out.
The trains are pretty luxurious in France, at least the line in the South of France. The trip to Antibes took about a half hour.
We saw the fresh Provence Market (a must see, and note it is finished by 2pm) the Picasso museum and had lunch at a fabulous place with a terrace overlooking the water.