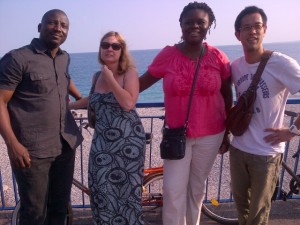 … so aujourdi hui tre intereste in my continuing adventures in the South of France.
"This is not Club Med," said a professor when a student was a few seconds late for ecole.
And this is the great thing about this ecole … it is very disciplined and here we are, students with just two days of lessons, already speaking (mostly bad) French to one another and rarely reverting to our native languages which as you can see in the above picture incorporates at the very least African countries, Japan, Australia, and not pictured Russia, Italy, Eastern Europe, Egypt, and more.
After a super intensive day of verbs a small group of us took the autobus to Nice, which is one Euro and ten minutes from tiny VilleFranche.
A bit of small world chat … one student among us checked on Chowhound.com for good restaurants, and happened to see a post I wrote a few weeks ago asking the same question.
We walked around the village (I longed to stop at its exotic spice markets) and found a cafe to have dinner. I was told by the professors bus service stops at 7pm, yet no one else believed me and at 9pm we found ourselves stranded.
The Chowhound student decided to walk the half hour back to VilleMarche, and the remaining students split into two groups. A colleague and I walked what seemed like miles for the train and took the 4 minute ride home.
As we returned to VilleFranche we caught up with the Chowhound student … it seems like the hike was more than an hour.
At any rate all ended well and here I am at my apartment writing this blog.
Nothing to report with excitement wine wise … some of the cafes seem to be well stocked with smaller domaines at the low end and branded names at the higher end (though spirits seem to be popular among the UK visitors).
At the local markets, even though 3 Euro wines are quite popular and perhaps drinkable, so far I've found the sweet spot to be about 12 Euros, which must be super premium for this market yet short of the 27 Euros where the real quality wines finally begin to kick in.
More plus tard!