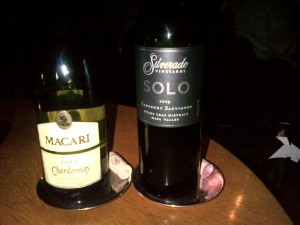 Really fabulous wines this week.
2009 Macari Chardonnay (North Fork)
Every Macari wine I've had has been so fabulous, yet this 2009 Chardonnay was one of the best. Medium gold color, nose of vanilla infused ripe red apple, almost an apple pie a la mode flavor with spice (cinnamon). It paired so perfectly with a  salmon tartar at the Modern!
2009 SOLO Silvarado Cabernet Sauvignon (Stags Leap District, Napa Valley)
Stags Leap District is one of the most prestigious in Napa … I was wondering if it was too early to open this 2009 vintage as these wines age so well. Yet the wine was ready to drink and quite delicious with the rich, ripe, concentrated fruit this district is known for … I got lots of concentrated cherry on the nose and palate with spice — an extremely well made and delicious wine that paired really well with the Modern's excellent steak!