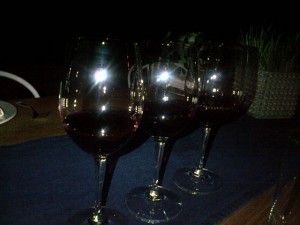 …. so last night I had so much fun at CorkBuzz, a restaurant I find myself going to a lot before opening  hours as one its owners, Laura Maniec, is a Master Sommelier and very active with the Somm Guild.
We had this fabulous Chablis tasting earlier this week  and I heard that CorkBuzz offers blind tastings between 5 – 6 on Fridays.
I didn't see Laura there, yet our server was very Laura-like in that she brought forth the tasting sheets which were pretty much on point with the Master Sommelier tasting sheets.
We ordered three whites and three reds, and it was curious to taste them with a MS sheet instead of my Master of Wine 12-wine blind tasting, as in the MW program wines are grouped according to themes. There was no theme here, just a white from Austria, Alsace, and one from California. The reds were a little easier to nail – a gamay from the Loire, a PN from Burgundy, and a red from Cahors.
The Cahors wine was so unusual we ordered it later at Balthazar. It's a rough, tannic wine, and at Balthazar the one we chose added a bit more roughness with the Tannat grape.