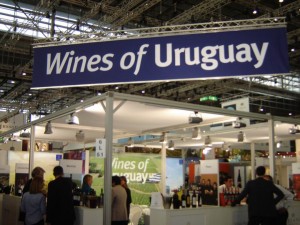 Have you tried a wine from Uruguay recently? They are so fantastic!
The big surprise for me was the elegance of the white wines.
And as you will read in the links below, they are making serious headway into "taming tannins.
When I was at the London Wine Fair in May I was excited to see some good friends I met on my trip there earlier in the year …
… the Uruguay people are so incredibly friendly no American could ever believe it.
Yes, we all know that Parisian women (and of course men!) kiss one another, yet this is after they've met each before.
Uruguay women kiss (double cheek, if I remember) on the first encounter, and are incredibly friendly.
As you will read in the article I wrote for Palate Press below, Ann Pizzorno picked ups up at the airport and brought us to her Bodega Pizzorno winery.
And in tag team fashion, the next winemaker we were to meet brought us to his winery (yes, the kissing continued) and so on for an entire week.
You can read my Palate Press article here and I'd love to hear your thoughts on the wine and the people.
Also the Wines of Uruguay just posted something about the visit on their site here:
If you missed my original post on my visit to all the wineries you can see them here:
http://palatepress.com/2012/05/wine/uruguays-winemkers-successfully-taming-tannat/