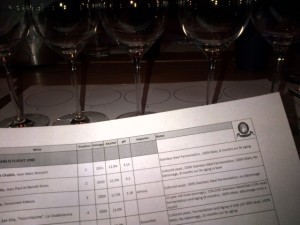 Fabulous tasting today with the Somm Guild at CorkBuzz!
Matt Stamp MS led a tutored tasting of different appelations, from Petit Chablis to Grand Cru.
The first hour was basically a history of the region from 90 AD … the Romans made wine, yet waves of different rulers changed the structure every few centuries.
Then, after the Middle Ages … a series of wars continued to suppress wine making in the region …
The freezes of the 1950s saw development in technology to keep the vines warm (aspersion, smudge pots, tarps, and electrical heating) and in 1967 the Cru system was developed.
We tasted 5 wines non-blind … then the thrill was tasting another five blind and trying to guess what they were (we had the names and simply had to match them).
The first five included:
Petit Chablis Jean-Marc Brocard 2011 — stainless steal fermentation, 100% malo, 8 months lees aging;
Chablis, Jean Paul et Benoit Droin 2010, culbured yeast, 100% SS fermentation, 100% malo, no batonnage, 8 months sur lie aging in tank;
Chablis Simonnet-Febvre 2009, cultured yeast, 100% SS fermentation, no battonage;
Chablis 1er Cru "Fourchaume" La Chablisienne 2009, 25 yeawr old vines, 72 Stainless Steel and the rest oak (15% new) 100$ malo, battonage once a month.
Chablis Grand Cru, "Les Preuses" Jean Dauvissat 2006, cultured yest, feremntation and aging in oak (20 – 30% new), 100% malo, no battonage, 15 months sur lie aging.
The wines were all excellent. I liked the 06 Les Preuses the best … and also the Jean Paul et Benoit Droin 2010. Both had incredibly long finishes, Les Preuses over 50 seconds and the Droin wine very impressive.
Proud to say that in the second blind flight I guessed the Chablis Grand Cru "Le Clos" from Christian Moreau. I deduced this wine mostly by the year (2009) and also the producer (Christian Moreau) since he makes excellent wines.
Also in the line up was Grand Cru Chablis Blanchots W from Billaud-Simon, 1st Cru Montee de Tonnerre from Raveneau 2008, 1er Cru Sechet from Vincent Dauvissat 09, and 2010 Drouhin Chablis