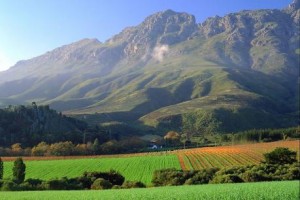 So excited to read that Anthony Hamilton Russell, from Hamilton Russell Vineyards in South Africa's Hemel-en-Aarde Valley, won the International Wine Challenge's (IWC) South African Chardonnay trophy for its 2010 vintage, which Hamilton Russell describes as having an "unusually classic styling for the New World."
I first heard of Hamilton Russell from my local wine shop, which recommended it highly.
Then, when I visited South Africa last December, Anthony Hamilton and other producers in the Hemel-en-Aarde valley greeted me with a fabulous lunch, reception, and tasting of their magnificent wines (you can read about that here).
I was a judge at the IWC this year and quite impressed by the exacting standards of this wine competition. Unlike other competitions, one judges the wines on one's feet — writes down observations and a score — and after that, the wines are discussed with the panel chair.
The July 13 2012 issue of Harpers Wine & Spirits contains a Q/A with Charles Back, the owner of Fairview winery and Goats do Roam, which reveals quite a bit about the present state of South African wine. He tells Harpers "I think S. Africa is trapped between Old and New World – ours is a very complicated message you have to try to communicate, unlike Australia or Chile. We are a very diverse vitgicultural area with lots of different aspects, altitudes, cultivars, soil types, and climatic conditions. To be honest, we are not that good at producing value for money wine at lower price points. What we are good at is diversity and unusual, exciting wines."
I agree with what Back tells Harpers … you can read about all my visits to S. Africa producers here:
In the interview, Beck adds that the next five years will be quite dramatic and that Pinot Noir could be the hot new enclave. The winery is based in Paarl, and he is growing Petite Syrah, Tannat, andTempranillo.
In terms of competition, Back tells Harpers that he sees Argentina as a key competitor, saying that domestic consumption in Argentina has halved in the past fifty years and has a lot of volume available as a result.