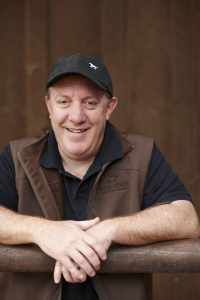 What fun having dinner (and wine!) at NYT's Bottino restaurant with Wild Horse Vineyard's  Director of Winemaking Clay Brock, who has been making wine at Wild Horse since 2008.
The winery was named for the wild mustangs that roamed the hills east of the vineyard site. Descendents of the first Spanish horses brought to California, the horses suggest a free, noble spirit.
Founder Ken Volk made his first wine in a plastic tub, stirring it with a baseball bat at Cal Poli.
In 1981 he selected the Templeton vineyard and winery location for its low vigor soils, proven ground water table, proximity to Estero Bay, and rural atmosphere.
As the winery is midpoint in the Central Coast, it is great for sourcing fruit from vineyards both north and south of the winery.
California's Central Coast is a broad appellation stretching from South San
Francisco to Santa Barbara County, bounded on the east by the Diablo Mountain Range and on the west by the Pacific Ocean. The area is composed of more than 30 sub-appellations, including Paso Robles.
Clay is a cool guy, and as it turns out, his father was the vineyard manager for famed San Francisco confectioner Harry See. Clay helped his father during his teen years and learned a great deal about wine. After college, he ultimately became winemaker at Zaca Mesa winery and took the position with Wild Horse in 2008.  Winemaker Chrissy Whittmann assists him in his tasks.
These are the wines they make:
Wild Horse Collection
Each vintage, the winery produce five exceptional wines under the Wild
Horse label that can be found nationally:
Wild Horse Chardonnay, Central Coast
Wild Horse Pinot Noir, Central Coast
Wild Horse Merlot, Paso Robles
Wild Horse Cabernet Sauvignon, Paso Robles
Wild Horse Viognier, Central Coast
Unbridled Collection
The Unbridled label is reserved to showcase vineyard-designated, barrel
selected wines from throughout the Central Coast. These wines are
available through the tasting room, online store and wine club. In 2008 two
Unbridled wines were distributed nationally for the first time.
Unbridled Pinot Noir, Santa Barbara County
Unbridled Chardonnay, Bien Nacido Vineyard
During dinner we tried many of Wild Horse wines, as you see below.
2010 Unbridled Chardonnay (Bien Nacido Vineyards)
Lots of crisp apple, pear, and pineapple with racy acidity and minerality. Also rich with lemon and caramel. Great with shrimp.
2010 Unbridled Santa Barbara Pinot Noir
You will find cherry, blackberry and vanilla aromas with sublte savory notes. Full bodied with ripe fruit flavors and supple tannins. Yummy with Portobello mushrooms.
2010 Chardonnay Central Coast
Vibrant Aromas of apple, pear, and white peach plus vanilla from barrel aging. Great with poached halibut.
2010 Pinot Noir Central Coast
Spicy red fruit (pomegranate, cherry, cranberry) with a velvet mouthfeel and long clean finish. French oak gives it rounder texture and subtle toast notes.
Cheval Sauvage 2008 Pinot Noir (Santa Maria Valley)
This vintage was sourced from a diverse group of vineyards within the Santa Maria Valley and Santa Rita Hills. Small lots of Pinot Noir were fermented in small, open top fermenters and punched down 2 to 3 times a day during the primary fermentation. Each lot spent at least 10 – 14 days on the skins to max flavor and color extraction. After pressing, each lot was racked once into 100% French oak barrels from Cadus, Mercurey, Remond, and Francois Freres cooperates to complete malolactic fermentation and undergo 14 months of masceration.
Tasting notes: You will find richer, more concentrated flavors with a classic pinot noir profile. Lots of black fruit and mineralilty. Great with a morel mushroom sauce.