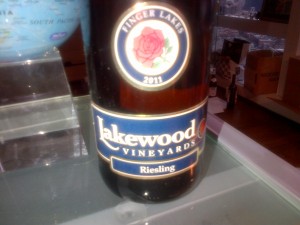 Finger Lake Riesling Rules
A few years back, I went to the Finger Lakes with the Wine Media Guild and enjoyed these wines for the first time. They are really delicious and quite a value for the price. A good way to start your Riesling education is to visit the Finger Lakes Alliance web site
On this site, I first read that each of the lakes gave the grapes a different characteristic (lemon/lime, mineral, apricot/peach) then I began a more extensive research project and saw that winemakers such as Peter Bell of Fox Run said that the vintage and the winemaker play such a crucial role one can not assign a flavor profile to the wine based on lake alone.
2011 Lakewood Vineyards Riesling
I've been on a Riesling kick lately … this bottle was one of 6 wines sent to me from the Finger Lakes and I wanted to mentally contrast it to the wines I had last night from luxury Mosel producer S.A. Prum (read it here: https://awinestory.com/2012/09/mr-prum-of-sa-prum-cellars-gives-private-tasting-at-cooking-by-the-book.html)The Mosel and the Finger Lakes are quite different in terms of topography – the Mosel has dramatic sheer cliffs to the Rhine, and the top vineyards have been famed for over 300 years.  Yet both regions have ancient soils, and the Finger Lakes is an up and coming region. The Lakewood I'm tasting now is a pale yellow color that is slightly off dry ("dry" is about five grams of residual sugar and this tastes to be about 28 grams per litre).  The aromatic nose has sweet floral notes and the fragrance of ripening fruit such as super ripe pears, grapes just turning into raisins, a hint of clove and petrol,and on the palate honeyed notes and a ripe, creamy mouthfeel. Long mineral finish and racy acidity.
2011 Swedish Hill Finger Lakes Riesling
Medium Lemon in color with some tiny C02 bubbles to keep the freshness, this is a sweeter style Riesling with a delicious floral nose of honeysuckle and a very balanced palate that does not taste at all sweet, just delicious. Floral notes on the palate (honeysuckle, orange blossom) and some lime … great pairing for scallops! Long mineral finish.
2011 Knapp Finger Lakes Riesling
A darker lemon/green in color, this has a nose of very ripe, intense grapes … just smelling it, one can imagine the ripe grapes hanging heavy on the vine with sugar. Floral notes and lime on the nose, on the palate, a surprisingly dainty taste given the lush full bodied nose … (imagine the delicacy of lace).  Flavors include lemon, lime, and an exotic eastern spice along with Meyer lemon. I can see this pair VERY well with a simple pound cake.
2011 Lucas Vineyards Dry Riesling Finger Lakes
Very light pale color, nose of light honeysuckle, slight petrol – on the palate dry with racy acidity, strong minerality, and a very long mineral finish with some apricot. A really delicious dry wine.
2011 Dr. Konstantin Frank Dry Riesling Finger Lakes
Lemon colored with a spritz of C02. on the nose focused and restrained flavors of lemon and lime and a mineral component, very pungent! On the palate, sharply defined acidity and minerality. Long mineral finish. Great with seafood.  Very elegant and balanced.
2011 Ravines Dry Riesling Finger Lakes
Lemon colored with some tiny Co2 bubbles, this wine has a succulent citrus nose – lemon verbana – and a velvety texture on the palate with more elegantly focused citrus. Long mineral finish. A very refreshing wine to serve with seafood such as a shrimp or crab cocktail
2011 Fox Run Reserve Riesling Senaca Lake
Pale lemon in color, on the nose very precise lemon/lime – extremely balanced residual sugar to acid – some floral notes both on palate and nose.  Fabulous wine to pair with seafood.
2011 Sheldrake Point  Dry Riesling
Very balanced acid and fruit — extremely elegant and mineral driven.