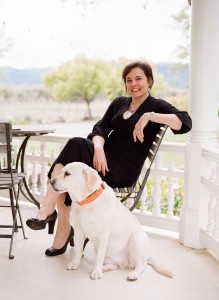 "You are never finished improving," says Emma J. Swain, the lady in the photo who happens to be the CEO (as of 2009) of St. Supery Estate Vineyards and Winery in the Napa Valley. Pictured above (in white, Emma is in black) is the "Chief Cuddle Officer" (CCO) GG, who maintains her public outreach as CCO through both her Twitter account and her Facebook page.
By "improving" Emma is referring to working with the team at St. Supery to continuously make the signature estate wines better and better. Today Emma and I met over Sauvignon Blanc (the winery grows more than 10% of all the Sauvignon Blanc produced in the Napa Valley) and Cabernet Sauvignon to talk about the wines and her responsibilities at St. Supery, which entail everything from working with the winemakers to overseeing the marketing and public relations.
Emma has worked in the wine industry for twenty years, and is 100% focused on quality. "My world has always been one of continuous improvement. In wineries, I believe being estate-grown is the only way to achieve this. From the soil to the supper table, we can raise the bar, never resting on our laurels."
Our lunch at Quality Meats in Manhattan is perfectly set up, with the hostess elegantly arranging the lineup of three Sauvignon-based wines and three Cabernets, each of different quality levels. Though the Chief Cuddle Officer is not with Emma, I like her immediately (she's wearing a shade of purple, as am I) and is passionate enough about Cabernet Sauvignon to be part of an all women club called (if I understand the name correctly) The Red Cabs in Napa.
Emma is well-versed to oversee a large winery, having received her Bachelor of Science degree in Agriculture and Managerial Economics from UC Davis. She started in finance (a crucial experience for a winery) and became a certified public accountant before joining Niebaum-Coppal winery and moving on to a few choice, high profile wineries after that.
Sauvignon Blanc
We taste through three different Sauvignon Blancs at different price points – all are delicious and estate grown. The primary different is the style of the individual wine.
The 2011 Estate Sauvignon Blanc Napa Valley is scintillating lemon in color, and very crisp and refreshing on the palate.  Fermentation takes place in stainless steel tanks at cool temperatures to preserve the fresh tropical aromas.  The retail price is about $20. Fabulous as a refreshing aperitif.
The 2011 Dollarhide Estate Vineyard Sauvignon Blanc is a richer style with lifted aromas of grapefruit, kiwi, lime, and other tantalizing fruit. Fermentation occurs partly in tank and in barrel with a percentage of new and older oak. The final blend is completed after 7 months of maturation on yeast lees. Great with a lobster salad. $35
The 2011 Estate Virtua Napa Valley is a blend of Sauvignon Blanc (40%) with (60%) Semillon. The fermentation takes place in tank and barrel and also rests 7 months on the lees. A very rich style of wine that is perfect for scallops. $30
Cabernet Sauvignon
Fabulous lineup of Cabs here!
2009 Napa Valley Estate is a rich, delicious wine aged in 100% French oak (40% new) that cries out for a big, juicy steak with its bold, assertive flavors. Quite yummy for $30.
2009 Dollarhide Estate Vineyard Cabernet Sauvignon is planted  on the higher elevation (ranging from 600 to 1100 feet above sea level) on 12 different soil series, 15 different soil variations, and a unique microclimate. This is aged in 100% French oak (83% new) and has an incredible structure and finesse. Age worthy! $85
2009 Estate Elu Napa Valley is a blend of Cabernet Sauvignon (66%),  Merlot (27%), Petit Verdot (4%) and Malbec (3%).  This blend is aged in 100% French oak (52% New) for 28 months. Very Bordeaux style blend with aromas of black currant and boysenberry jam with toasted vanilla from the oak. Delicious and dense!
During our lunch we talked of many things, including the very intriguing "guest experience" that the winery has introduced, in which certain wines are paired with cheese by famed sommelier Scott Tracy. There are lots of fun things to do at the winery, such as Ampelography tours (the field of botany concerned with the identification and classification of grapevines) in the vineyard.
Just imagine how you can impress your friends by pointing to a vine in spring and correctly identifying the grape it will grow!
Lots more exciting things happenning at St Supery so check back and be sure to click on the St Supery website.