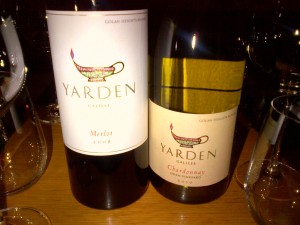 2010 Yarden Chardonnay Odem Vineyards (Gallilee, Israel)
Luscious and  aromatic , this Yarden Chardonnay is all about tropical fruit, fresh pear, and tangy citrus. With all its richness it is still balanced and elegant – and a fabulous price for an Israeli price at just under 20.  I experienced it at The Modern … a top restaurant run by Danny Meyers at the Museum of Modern Art. We paired it with scallops and salmon … fabulous!
2008 Yarden Merlot (Gallilee, Israel)
Very interesting Merlot with layers of plum, cherry, chocolate, and earth. The body is full and can be paired with many dishes … I tried it with a steak salad at the Modern (detailed above) yet I also liked it with my salmon. Can pair well with a number of dishes.
2010 Ricossa Moscato d'Asti (Italy, Piedmont, Asti, Moscato d'Asti)
straw color, fat slow bubbles, on nose fresh ripe apricot,peach, honeysuckle, on palate med weight, off-dry (25 grams/lr?), nice finish – fairly crisp and dry – with some minerals, a floral honeysuckle element, more ripe apricot. a nice aparitif or to serve with an angel food cake (1 view)

You can read an excellent article on Moscato here