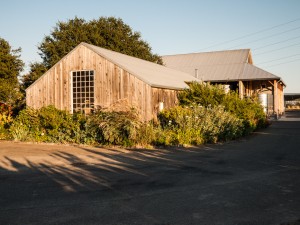 Very excited to spend Sunday morning in Napa with David Graves, co-founder of Saintsbury in Carneros along with his partner, co-founder Richard Ward.
David tells me the story of his winery (you can read it here) which was established in 1981. Their idea was to create quality Pinot Noir and Chardonnay and from the international accolades they've succeeded.
David is a kind and patient teacher … his winery is filled with employees who seem excited to come to work and several cats and dogs. You will also find carefully selected interns who on this Sunday morning are actively punching down Pinot Noir grapes or washing out a tank — very hard, strenuous work!
We walk around the various vineyards and David points out the Vertical Shoot Position of one vineyard, mentioning that he's going to replant with the Cane pruning method to avoid "Dead-Arm disease" or Eutypa.
Some grapes dangle seductively on the vines and they are juicy and delicious – it is very true that excellent wine comes from well-tended vineyards!
In contrast to most of the wineries I visit, even in the old world, Saintsbury seems very small and boutique, which may be just how David and Richard likes it. There is a family feel to the winery – I very much felt like I was in David's home, though he does not live there. Visitors can make appointments and can enjoy their tasting experience in this absolutely gorgeous garden.
Everyone I met at Saintsbury seemed unified in their focus on a single goal – creating the best wine possible. Though many aspects of the winery are high tech (including a Solar Panel) and "juice panels" sent to a local lab to better understand the components of the juice and any nutritional adjustments it may need, there is a hand crafted feel to the place.
Many thanks again to David Graves and associate winemaker Chris Kajani for their time and attention and helping me understand the magic of their excellent wines!
I had the opportunity to taste through the wines, and loved the Brown Ranch Chardonnay and Pinot Noir the best! Wine Club members, it seems, get the best deals – you can find out more about it here!