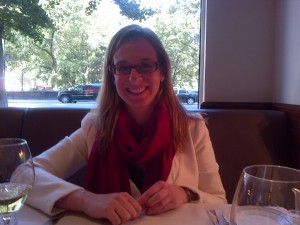 "I think that the Opalie de Château Coutet 2010 would pair great with the crudo," Aline Baly, co-owner and media rep of the family owned Chateau Coutet tells me, famed for their first growth Sauternes. "And for the main course, let's try the 1995 vintage of Ch Coutet (the sweet style) as the new vintages pair well with Scallops.
We are sitting at the top Manhattan restaurant Marea, and Aline is in New York to introduce Manhattan to her new quality, terroir driven white, called Opalie de Chateau Coutet. No expense has been spared in the creation of this dry wine, which seems fermentation in brand new oak barrels (expensive!) and also, a new cellar built on the property to house the new barrels. After fermentation, the wine is further aged in a mix of new and older French oak.
The grapes are sourced  from a plot of 40-year old vines planted in clay and limestone, a terroir known to be perfect for this style of wine.
Tasting the wine was a fabulous experience – the aroma was rich with pure fruit, and on the palate, more concentrated fruit with nuances of oak. The finish was long and mineral, and lasted well over thirty seconds.
Though I really wanted to catch up with Aline and what she's been doing since I last saw her in Bordeaux during En Primeur, I ended up asking a lot of boring Master of Wine type questions about fermentation temperature, soils, and questions about the market for these new dry wines.
Because production is so limited and Aline is so active on Facebook and Twitter, the good news is that the winery already has a huge fan list who love the Chateau Coutet style, which is fresh, crisp, clean, and mineral driven in both the sweet and dry.  "We wanted to keep the same theme and let both the sweet and dry wine show the unique terroir," Aline explains.
Below is some more information about the estate – the wine will soon be available in NYC about $40. It is a fabulous pairing with seafood and shellfish … I took turns having both the sweet and the dry with my scallops and liked having both options right there near my plate.
CHATEAU COUTET, a first classified growth since 1855 from the Barsac appellation, produces ultra-premium sweet wines. Built in the XIII Century, it is one of the oldest châteaux in Bordeaux's Sauternes region. Since 1977, the estate is owned by the Baly family, who demonstrate their long-term commitment to the brand with on-going investments to uphold the timeless sophistication, heavenly elegance and earthly origin of this historical property. Today the winery is managed with the technical and commercial collaboration of Baron Philippe de Rothschild S.A. company, the vineyard's exclusive distributor. Always highly rated and praised by wine critics and amateurs alike, Château Coutet is planted in 75% sémillon, 23% sauvignon blanc and 2% muscadelle.
You can read more from my article on Decanter