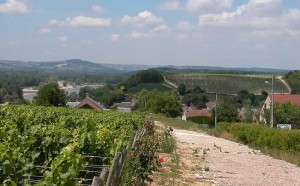 I read this quote in the October 15, 2012 issue of Wine Spectator … in this article, Alvaro Palacios was profiled and blames John Deere tractors for some of the current issues in Rioja, saying that Spanish winemakers bought them as a sign of prosperity when they made money. The problem was that tractors made it necessary to have wider, trellised rows.
The profile was most interesting … reading between the lines, like many Rioja winemakers profiled, Palacios had some issues with his father … he left Spain to study in Bordeaux at 21, worked for Petrus, and came back with big ideas. With a friend, Rene Barbier, he decided to make wine in Priorat but it seems his father would not support the venture financially. After a successful launch in Priorat, he conquered Bierzo.
I have been to Rioja, and what I found interesting was Palacios's focus on Rioja Baja. We studied the region in the courses I took at the Wine & Spirits Educational Trust (WSET) but I never really intensely studied the terroir, which has rocky soil with iron and quartz. Here, the northern-facing vineyards are best, whereas in Rioja Alta and Alavesa the soils are limestone and south-facing.
Like many other winemakers profiled, Palacios is focusing on estate wines, reducing production, and trying to be sustainable. Now his current focus is finding small, high altitude parcels planted with Old Arnacha vines.