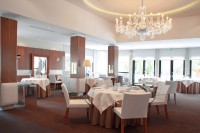 Our group of professionals (we are chefs, journalists, food scientists) had our last luxurious lunch at the celebrated L'Assiette Champenoise.
It was a very glamorous space, run by Arnaud Lallement grew up in a restauranteur family in Châlons-sur-Vesle.  At 18, with a Diploma from the Strasbourg Hotel & Catering College in his pocket, Arnaud went off to learn his trade alongside the great names in French cuisine, like Roger Vergé, Chef of the legendary Moulin de Mougins, Michel Guérard, one of the longest-standing 3-star chefs in France, or Alain Chapel and his famous establishment in Mionnay.
With all this experience behind him, the 26 year old joined his father, Jean-Pierre, who had been running the 'Assiette Champenoise' since 1975.
Arnaud was 26 when he took over responsibility for the kitchens, and in 2001, the it was awarded its first Michelin star. In 2003, Arnaud, at 29, was the youngest chef selected by Alain Ducasse to take part in the Fou-Food France adventure — an operation that enables young provincial chefs to come and present their work at one of the finest restaurants in Paris, the Plaza Athénée. In 2006, Arnaud entered the Association des Grandes Tables du Monde. In 2009, the Gault & Millau guide recognized the 'Assiette', voted 'Establishment of the Year', then in 2010 awarded it a fourth toque. In 2010, the 'Assiette Champenoise' also celebrated its 35th birthday, as well as 10 years of collaboration between Arnaud Lallement and Olivier Krug, with whom he regularly produces dishes to perfectly accompany their champagnes.
Several yearss ago I attended an exclusive guest lunch –  prepared by Roger Verge and also Jean Troisgros and a few other famous french names (and with the chefs attending themselves!)  and was looking forward to the experience at L'Assiette. Some of you might be shocked, yet I could only stay for one course at Assiette Champenoise  yet was satisfied with the creativity of the presentation and the elegance of the dish and its unique flavors.
Yet what surprised me the most was the service. Good service – even excellent service – can be found all over the world. We've all seen servers stand around the table, waiting to put the plates down in unison, and yes they did do this well. Yet watching the servers was like watching an orchestral performance when everything is synchronized.  No – perhaps more than a ballet. Waiters were constantly circling around us in what can almost be described as a dance, picking up plates and silverwear and putting down new (empty) plates and fresh silver.  At any rate, looking forward to going back when I can experience this on a more intimate basis.