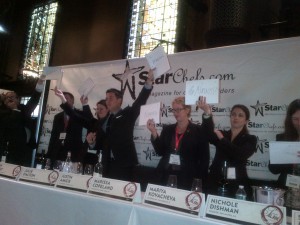 So much fun judging Somm Slam2012 yesterday! The country's best sommeliers showed up in force to test their somm skills in a number of ways, including 1) blind tasting 2) wine and cheese pairing on the spot and 3) trivia!
The competition was MC'd by everyone's favorite Master Sommelier, Fred Dexheimer, and was both an edifying and entertaining experience.
The blind tasting was a bit easy (in my view) so the real challenge was for the sommeliers to quickly taste the "surprise" cheese (s) they have been given with one of several dozens of bottles of wine that have been donated by sponsors, a representation of new world and old, and also a nice selection of vintages.
What was especially challenging about this cheese and wine pairing competition is that the cheeses were VERY different. It would be hard enough for a somm to match just one cheese, yet finding a wine that could pair with two very different cheeses was quite a test.
Of course, many experts might be able to create a pairing given vast amounts of preparation time – yet these somms made great pairings in a matter of seconds!
On the first flight, I mentally thought an aged off-dry Chenin Blanc would work with both cheeses. Though I was not aware of what was on the table for grabs, the two somms that brought out semi-dry aged wines matched the flavor profile I was looking for.
It is only the first day, so stay tuned to when the winner is finally announced this Tuesday! @star_chefs#icc2012, @freddexms