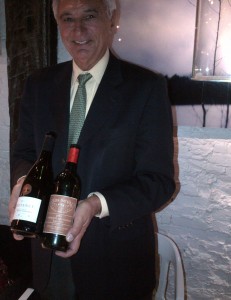 Bernard Portet's Heritance
Bernard Portet
"There's still a pioneer spirit in the Napa Valley," proclaims Bernard Portet, Owner and Winemaker for Polaris Wines. Of course, this charming French-born co-founder of Clos du Val would know – especially since he had the exalted position of Chairman of the Napa Valley Wine Auction in 1997.
Though Mr. Portet was in NYC to show the new vintages of his new Heritance brand, he spoke a bit about how in some ways Napa was still a small community — one of the Mondavi sons needed a pump in an emergency and called on the well-connected Mr. Portet to find one among the other vignerons.
In speaking about how the spirit of Napa has changed since his first days in the early 1970s to today, Mr. Portet notes that while today is more corporate, that same neighborly spirit still exists.
Which may be in part the reason why after he retired from Clos du Val, Mr. Portet remained in Napa to create a new "wine without walls" enterprise, which is his assemblage-based wine called Heritance" – the name an amalgam of "heritage" and "inheritance."  The "inheritance" part of the equation refers to Bernard's father, André, who for years was the regisseur (estate manager) of famed Chateau Lafite in Bordeaux and taught Bernard much of what he knows about growing grapes and making wine, while "heritage" reflects his family's long wine lineage .
Heritance is a showcase for Bernard Portet's signature winemaking style, which he describes as emphasizing "balance, elegance and complexity," qualities some critics say have gone missing from California wines in recent decades.  Mr. Portet sources top-flight grapes for Heritance from leading growers throughout Napa Valley, focusing on fruit grown between St. Helena in the middle of the valley and cooler districts to the south near the town of Napa.
His long-term relationships with these growers allow Portet to specify how he wants the fruit grown.  Once it's harvested and conveyed to the custom crush facilities where he makes the wines of Heritance, Bernard oversees every aspect of the winemaking process.  His fabled artistry comes into play especially during the assemblage, when he gathers together his various vineyard lots and blends them into a wine that is far more than the sum of its parts.  Not surprisingly, Portet has a soft touch with oak and eschews heavily toasted barrels that impart overly strong oak flavors or tannins.
In any event, today was my second tasting of his wines – this time a shared affair at the trendy ABC Kitchen in NYC, whereas before it had been a private dinner. He has another vintage – this time with a different assemblage of grapes – and also has brought along his new Malbec from Argentina and also (surprise!) a 1972 Bordeaux style wine from Clos du Val in its initial vintage.
The Wines
We started with the 2010 Heritance Sauvignon Blanc (SB) which was 91% SB and 9% Semillon. It had a scintillating bright sparkling light gold color, and a very floral nose of ripe fruit and flowers. What was interesting was to compare it with the 2011 SB, which was a surprising 88% SB and 12% Rousanne (a grape traditional to the Rhone valley). The reason behind this was because Mr. Portet did not feel the semillon grapes were good that year, and needed to find an alternative.
We moved on to the 2011 Stanly Ranch – Carneros – made from two plots of different sorts of Pinot Noir, where Mr. Portet's talents with assemblage came in handy. A very light and bright style of Pinot Noir that goes well with food.
From there, 2010 Malbec from Argentina … just 2 percent of Cabernet Sauvignon though in certain vintages the percentage has been as high as eight. Nicely balanced and elegant.
Finally, two Cabernet Sauvignons … one a 2008 with 8% Merlot, and the other a "baby" Cabernet Sauvignon with 4% of Merlot and 2% of Merlot — the entire table agreed it can age well.
Of course the shining glory was the 1972 Clos du Val Bordeaux Blend, very ripe and still kicking after 30 years and a rival for Bordeaux, France!
Roots
Bernard Portet was born in Cognac – where generations of his family have made still wines for distillation – but as a boy moved with his parents and younger brother Dominique (today a distinguished winemaker in Australia) to Bordeaux, where his father managed Chateau Lafite.  From childhood on, Bernard frequently accompanied his father on vineyard walks, during which André would explain to his son why particular grape varieties were planted where they were and why certain soil types were beneficial to those varieties, in the process conveying to Bernard the centrality of terroir – the sum of all the natural factors determining a wine's personality.  After studying Agronomy, Viticulture and Enology at Schools of Agronomy of Toulouse and Montpellier, Bernard was eager to see vineyard and winemaking practices in other wine regions, which led to his first visit to California in 1968.
Due to his Bordeaux background, Portet was accustomed to wines of elegance and finesse that typically were blends of several varieties – Cabernet Sauvignon, Merlot, Cabernet Franc and Petit Verdot for red Bordeaux and Sauvignon Blanc and Semillon for white.  When he first came to Napa Valley, in 1968, Portet was struck by how big and powerful Napa wines were and how intent its winemakers were on maximizing varietal intensity by making 100% varietal wines.
Two years later, Portet was hired by John Goelet, an American descendant of the Guestier wine merchant family of Bordeaux, to search the world for the best region outside France to establish a chateau dedicated to making world-class wines.  After visiting California, South America, Morocco, Australia and South Africa, Portet settled on what was to become the Stags Leap District of Napa Valley, a relatively cool region in the southern part of Napa Valley, and helped John Goelet establish Clos du Val.  In 1972, Portet produced Clos du Val's first vintage, its legendary Cabernet Sauvignon.  Over the next 35 years, Portet's name became synonymous with a refined, elegant approach to Cabernet Sauvignon, one relying on blending with Cabernet's natural partner, Merlot, a variety that would not become well-established in California until the late 1980s.  Portet instructed his Cabernet and Merlot growers to pick at relatively low sugar levels  around (23.5 degrees Brix), did not offer bonuses for riper fruit, a practice now almost universal in California, and decided on harvest dates when he felt the fruit had reached perfect maturity.
Portet's style was applauded in the '70s and '80s, but by the early '90s, tastes were changing as leading wine critics began championing super-ripe, heavily extracted wines that often were quite high in alcohol.  In order to remain in step with the marketplace, many winemakers felt pressured to change their approach to red wine production by allowing their grapes to ripen longer on the vine, using techniques to maximize fruit and tannin extraction, and even allowing some residual sweetness.
Bernard Portet was not among them.  "Those wines are not my style," Portet says, bluntly.  "Why make Merlots that taste like Syrahs?  Where's the charm?"  Big, alcoholic, super-extracted wines "overpower the palate," Portet insists, and sacrifice varietal and regional typicity, as well as complexity.
As Bernard's son, Olivier – the 10th generation of Portets in the wine business – says, "My father didn't sell out on his winemaking heritage, he stuck to his guns."  Now that the pendulum is swinging back toward wines of greater balance and sense of place, Portet's Heritance is precisely the sort of wine that retailers, restaurateurs and consumers – especially younger ones – are searching for.
"The trade has definitely become more receptive in the past few years to refined wines that complement food well," Don Chase says.  "Heritance is enjoying a very good reception, especially in restaurants."
Both of the current Heritance releases – a 2008 Napa Valley Cabernet Sauvignon blended with 8% Merlot and a Graves-style 2010 Napa Valley Sauvignon Blanc blended with 9% Semillon – are under 14% alcohol and boast round, elegant flavors, exemplary balance and a fresh, lingering finish.  They are superb food wines and offer outstanding quality for the price ($28 retail for the Cabernet Sauvignon, $18 retail for the Sauvignon Blanc).
In addition to his core varietals of Napa Valley Sauvignon Blanc and Cabernet Sauvignon, Portet's "winery without walls" allows him the flexibility to craft distinctive, small production wineswhen the perfect opportunity presents itself during any given vintage.  There may only be a few barrels made of these wines – and they may not be produced each year – but the selection process is rigorous and the lots are set aside only when deemed truly exceptional.  The first but certainly not last of these special offerings is a small lot Pinot Noir from the famed Stanly Ranch in Carneros, Napa Valley.  It is the result of one of Bernard's many relationships of longstanding with premium growers in the area, and only 217 cases were produced.   A limited production vineyard-designated Cabernet Sauvignon may also be on the horizon.
Heritance currently is distributed in 20 states and is loyally supported by Bernard Portet fans who appreciate the winemaking style he has stuck to, against the grain, for 40 years.
"Terroir is one of the two key components of a fine wine," Portet is fond of saying.  "The other is its style, which derives from the personality of the winemaker."  Given that Portet's personality is humble – he could have affixed his name to the new brand and attracted a lot more attention – friendly and dignified, it's no surprise that Heritance wines are smooth and suave, yet full of savory Napa Valley flavor.
At 68, Bernard Portet has witnessed dramatic changes in Napa Valley since the days when it was a family-dominated farming community in which information and advice were freely shared and handshake agreements were the norm.  ("It was beautiful," Portet recalls.)  Today, Napa is a high-stakes, highly competitive wine monoculture in which owners and winemakers are governed by the big-business rules of an increasingly globalized wine market.
Undaunted, Portet feels he has plenty of winemaking left in him, but also wants to ensure that the next generation of Portets has the experience and savvy it needs to sustain the family name in the international wine arena.  Son Olivier has worked in vineyards and wineries in Napa Valley, where he grew up, as well as in Cognac, Bordeaux and Australia.  He has an undergraduate degree in finance, an MBA, and served for five years as director of European imports for Wilson Daniels, Inc., California's premier wine import company.
In short, the Portet family's "heritance" appears to be in good hands, 314 years and counting.
Filed under: News
Tagged: cabernet franc, cabernet sauvignon, malbec, merlot, petit verdot, pinot noir, port, red wine, sauvignon blanc, semillon, syrah