.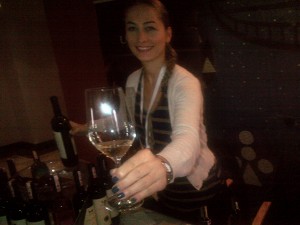 … so here I am in Izmir … ancient Smyrna … with a gorgeous room at the #swisshotel.
Sun on the terrace for breakfast (welcome after brutal NYC climate) that included sour cherry juice and thick Turkish coffee ("How would you like it … medium?" asks the waitress, as it is typically made with sugar included).
At any rate, MW Joel Butler gives a fabulous technical tasting on native Turkish varieties. Standing room only and the white-jacketed waiters really performed brilliantly considering the tight space. They were flawless, like sommeliers you might find at Danny Meyer's The Modern, where so many wine lunches are held.
Now I like to try every wine, yet if I had a preference it would always be red wine over white, even with fish. So you may be surprised that when it comes to Turkish wines, so far I do prefer the whites to the reds (yet wait until the #EWBC is over for my final conclusion).
As a rule, I've found whites of a similar price category to be crisp and refreshing with an intriguing personality.
Reds may very according to price … of today's tasting, my favorite wine was similar to a higher end Burgundy Pinot Noir, which was the Kalecik Karasi.  Tamed tannins, silky, elegant. Berry flavors and med finish.
The other wines were interesting … The white Yapincak was more rounded than the Emir, yet I personally liked that high acidity and minerality of Emir. The white Narince was good, more rounded and buttery, yet again, for me Emir rules.
The Okuzgozu (two styles) represented the way the grapes can take on different styles. Often here in Turkey I see it blended with Cabernet Sauvignon so it has some Merlot qualities.
Joel Butler MW was brilliant … he traveled around the region and has a book coming out on the subject called Divine Vintage.