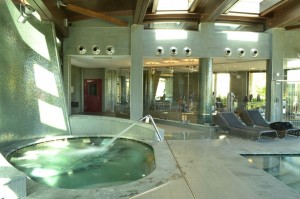 So what is this picture of a jacuzzi doing in an online magazine about wine?
It is a snap from my favorite hotel in Italy, Il Boscareto, a luxury oriented spa hotel so enticing even the most ardent wine lover might choose to stay inside and have a massage or gourmet meal than hunt for truffles or visit wineries in neighboring Serralunga.
At any rate, I mention this resort because I just read that Decanter, the famous UK consumer publication, organized a reader trip to Piedmont and the lucky readers were able to stay at this very hotel! You can read the trip report here but basically, they enjoyed truffes with every meal (except for breakfast, but then again, why not? I've often had truffles with scrambled eggs) and visited many wineries.
Very jealous they were able to hunt for truffles as well — I had visited the region and Il Boscareto in May.
Angelo Gaja gave the readers a private tour of the Gaja winery (not open to visitors).
The Decanter trip is over, but if you read the report I wrote on the region for Palate Press you can organize your own trip.