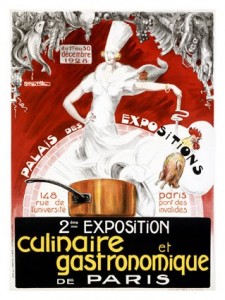 "Seeing Max Riedel speak and demonstrate his glassware is a treat," said a wine savvy friend a few years back. And now that I received an invitation to see him speak next week, I'm upset I will not be able to attend.
The importance of excellent glassware is a key issue these days, especially now that studies show that the world is buying less wine, yet better quality wine overall.
I still remember his lessons from a few years back … now with the holiday season upon us, it is a lesson well re-posted!
***
"The biggest mistake couples make when they get married is buying too many glasses," says Max Riedel, during a demonstration of his fine glassware in his company's Manhattan office. With this tidbit of sage advice, Mr. Riedel, the grandson of the company's founder and its key spokesperson, began a presentation attempting to prove that proper glassware does make a difference. To my mind, he succeeded.
Though I've always respected good glassware, before this session I never really went out of my way to break out the "good stuff" every time I popped a cork, or made an effort to match the varietal with the right glass. Using a proper glass always seemed like an excellent idea – if I had someone at my beck and call to find the glass, pour the wine, wash it, and store it afterward (which I think is what Max meant by buying too many of 'the same' glasses). And beyond expense, the biggest hurdle for me personally was the washing and storing of the glassware. If you have seen a typical Manhattan kitchen in the movies, you know that cabinet space is at a premium. Then of course you have the challenge of washing the glass. Max claims he has gory pictures that prove the dangers of attempting to hand wash Riedel glassware after enjoying its contents, and now advises folks to use the dishwasher provided that glasses are the only items washed, the control is set to "air dry," and the glasses are spaced far apart.
Yet if you are okay with the storage and cleaning of the glasses – and can afford the high price tag of Riedel glassware – I would strongly encourage you to invest in this glassware. I walked into the session with a fairly skeptical attitude. Sure, I know that the right glassware would provide a more pleasurable experience, yet emerged shocked at how the right glassware can dramatically improve one's perception of the aroma and taste of the wine.
To prove this, much of the tasting revolved around experiencing the aroma and palate of different varietals in the glass they were designed for and then pouring the wine into the Riedel glassware designed for other varietals, as well as a glass called "the joker" (used by professional judges for tastings) and a plastic container. I pretty much knew that any given wine would taste better in a Riedel glass than plastic or a thick cheap glass, yet was surprised that the shape mattered so intensely. The Kendall Jackson Sauvignon Blanc (SB) Vintner's Reserve 2007 tasted very good (and much more expensive) in the Riesling Grand Cru glass than in the glass meant for a chardonnay, and vice versa. Max went on to explain the science of the glass's shape, and in the case of the Sauvignon Blanc, how it helped concentrate the floral and grassy aromas of the SB as well as how the wine presented itself on the palate. We performed the same exercises for the Jordan 2006 Chardonnay and La Crema Pinot Noir 2007. The vast difference between Riedel glasses was noticeable with all varietals. So now you may be asking, "How noticeable? Is it noticeable enough to spend money, space, and washing care to buy the glasses?"
If wine is important to you, yes. As a wine writer, I am very impressed at how these glasses are educational aids, helping me find nuances in wine that might otherwise go unnoticed. The glasses do not alter the wine, only your perception and enjoyment of it. Yet I am also visualizing where I can put the glasses (Max says you do not need to buy each of the dozens of shapes, just the major varietals or the varietals you drink most often). I also know my domestic limitations, and see many shattered glasses in my future – hopefully without the blood and gore Max mentioned that can sometimes be attributed to WUI (washing under the influence).
I am excited to put this new glassware program into action. For now, I am going to start small and see what happens – definitely individual glasses for Chardonnay and Sauvignon Blanc. Do not cheat and get one glass for all white wines, you will be wasting your money and ruining what would have been a great experience. There is an exact science behind each glass and the varietal it is meant for. The Pinot Noir glass was also fabulous and teased out the aromas of the wine, but then again, I really do not drink so much Pinot, so that glass can wait. I will also consider the Cabernet glass, but I need to dialogue with Max or a Riedel specialist about this as I drink mostly blends from the Southern Rhone and Riedel might offer a better choice.
So there you have it. Three glasses (well, make that six – never know when a friend might join) for a good start. Feel free to email me how I'm doing after a month. I myself am curious if I will dare hand wash a glass and end up in the ER and Max's photo collection, or play it safe and load a single glass into the dishwasher for a spin. Sometimes you just have to live dangerously…