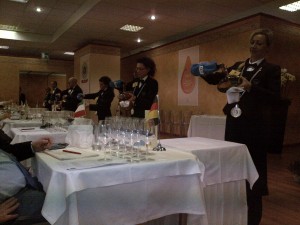 … so today is the last day of Judging for VeronaFiere … we are finally taking another taste of the most highly rated wines. I will miss meeting my fellow judges from all over the world.
A minor 'political' skirmish took place yesterday when I innocently "invaded" the chair and table holding the flag of my German neighbor, yet it was all in good fun. On my right the judge is from Argentina.
Yet another piece of colorful news. I interpreted the bus departure time from our hotel yesterday to be 3:15, instead of 3:00 sharp. And so I found myself having to walk along to the convention center …
… luckily a fellow judge helped me navigate the way, which meant actually walking through the muck of the remains of a horse show that had taken place the day before. Workers with tractors were tidying everything up, yet the enormous convention center, with its animal scent on the air and on the ground, was a far cry from the pageant that was VinItaly this past spring, where we were blessed with gorgeous sunny skies and lots of very fine wine.
At any rate, we made it to the center with more than enough time before the judging began.
So far, what I like best about this competition is the opportunity to interact with the international community and meet exciting new friends who are editors and writers in their countries or have their own wineries.
There seem to be about three enologists for every journalist.
I did meet a Greek today who is writing a book about enology.
Many people spoke English quite well, yet for some Italians they felt more comfortable speaking French than Italian. I spoke to a few in French are we were amazingly able to have a conversation whereas we would not in English.