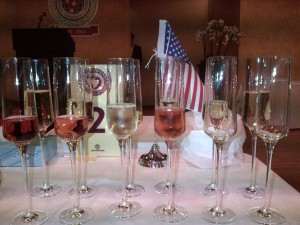 … so here I am in my seat as a judge for the 2oth Anniversary of #VeronaFiere's International Wine Competition representing the USA with the American flag on my little desk to prove it.
Today is Day 3 and by now I am a bit more accustomed to the drama surrounding this wine judging, which includes a troop of impeccably and formally dressed sommeliers with the silver tastevin dangling from their necks,
Now the first day was incredibly dramatic … I have been in Europe for months now, visiting museums in the larger cities between trips to the vineyards, and all the drama I experienced in paintings such as those by Delacroix find their equal in the drama of over two dozen sommeliers marching in formation to the front of the room, displaying their masked bottles, and pouring them to the various judges and enologists in unison.
The drama of the ceremony underscored the very serious nature of this competition. During a press conference, we were informed that unlike many other competitions, the 'pass rate" for a wine to win even the most elementary award is extremely high.
The judging sessions (10 wines per session, no more than two session in the morning or afternoon) were also extremely formal. The director at the head of the room, at times responding to a request for a second bottle to be opened. It was like a proctor over-seeing students at a very important exam, and quite different to the possibly more jovial atmosphere of other wine competitions around the world.
More than 2300 samples from 23 countries in four continents are to be tasted. Patrons of the event include the Organisation International de la Vigne et du Vin (O.I.V.), the Union Internationale des Enolgues (U.I.Oe) and the Italian ministries for Agricultural and Forestry Policy and Economic Development.
The forms require some time to fill out – the wines are all tasted blind and are coded, and neat marking is key.
At any rate, by Day 3 the participants are understanding the process, respecting the traditions of this particular judging process, and getting to know one another.
Today I had a fun lunch with winemaker Paulo Bertluti from his family's La Calcinari winery. The grape in his region of Marche is Montepulciano.  When on the bus he was telling me about his vineyard, and about how the 2007 of Folie (its first vintage) was 100% new oak I was wondering how I would be polite when I tasted it. So many winemakers think that by throwing oak at a wine, it tastes "sophisticated" or "expensive."
Yet when he poured it to our little group at lunch (we all dined together in the hotel restaurant) I found it quite delicious. Paulo explained that the grape is so tannic it really needs 100% new oak to mellow it out, and the integration was seamless.
Paulo also showcased his second wine, which unlike the first is aged in very large old oak containers. He explained that he allows both wines to ferment naturally … and then adds cultured yeast to ensure that it finishes. I will discuss this with him in greater depth and report back, as choice of yeast is a key topic among the wine community.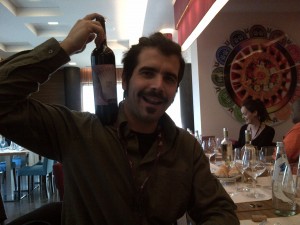 "Paulo is a crazy guy," said a woman at our table, meaning it in a fun way. We are all from different countries with only three or four native English speakers out of a hundred judges, so I think what she was trying to say is that he is something of a delightful and friendly character as he dashed around the room pouring wine for different people and charming everyone.
We have some Twitter and Facebook folks using the hashtag #vinitaly and #veronafiere so you might be able to gain some more insight from reading those posts, but most are amazement about the spectacular sommeliers.
Last night many of us received tickets to see the opera Aida and walked around the village, which was nearly deserted compared to when I was here for VinItaly in May.
Dinners have been fun opportunities to get to know one another and experience wines from different syndicates. Sunday we had dinner at Villa Corderigo … something of a castle/hotel combination.
We had sparkling wine and antipasti that was really enough for a meal, and then a formal meal to follow.  I sat next to an English writer who lives in Italy and France and last night showed us some fab dive bars in the main city of Verona before the opera.
Monday we had dinner at the Gran Guardia Palace – I had seen this structure during VinItaly and glad I was lucky enough to experience the inside.
Tonight – just in a few moments – we are zipping off to Centro di Eccelleza di Rocca Sveva for dinner offered by the soave DOC wine consortium.
Stay tuned!