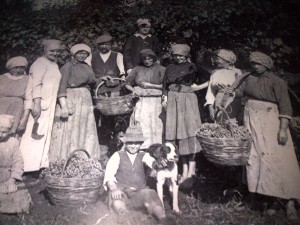 … so last night we had dinner in Soave with producers from the Soave DOC wine consortium. The location was right across from the amazing castle, which was dramatically lit up at night.
The picture above is from Borgo Rocca Sveva winery, a long time member of the cooperative.  Their early history in photographs are mounted on the walls as one walks from the winery to the reception and dining rooms … most of the pictures taken in 1919, and also a few from the 1930s and 1960s.
Viewing these pictures one can see very well dressed producers posing in elegant suits against the castle, proud families showing off their tasting rooms, a "wheel barrel" of happy laughing children, and pretty girls from the town lined up in some sort of pageant or wine celebration.
The castle was built in the 10th century to protect the area against the Hungarians — interesting as we have several judges on our international panel from Hungary.
At any rate, the castle was a very dramatic spectacle … the mountain was so steep no invader could possible climb it. And of course you can imagine all the boiling oil that would have been poured on them from above.
The castle was sold on the private market in 1596. In 1830 it was inherited by Giulio Camuzzoni who restored the manor and in particular the surroundings walls (with is twenty-four towers), the battlements and living-quarters.
The castle now serves as a back-drop for medieval pageants – I understand it is open to the public only on certain days.
We were too busy enjoying all the different Soave wines to think much about a castle visit, especially as the evening started quite late.
At my table I met Carlo Alberto Delaini, the head of the Press Office for VeonaFiere – very elegant and doing an excellent job of guiding the region to promote wine from the region.
Also Giancarol Piubelli, an enologist from Cantina di Soave who helped me – a student in the Master of Wine program – better understand the fermentation process of Soave both dry and sweet.
I also had a chance to speak a bit with Diego Valsecchi, Sales and Marketing Director for VeronaFiere, who also spoke to us at the opening address about the wine competition.
Leading the PR effort of the consortium was Lucia Vesentini, who was also the MC for the night, introducing the various key people present.