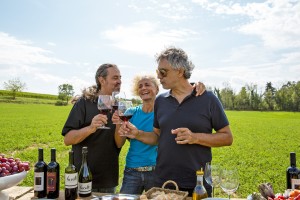 Very interesting tasting yesterday afternoon at Le Cirque …Andrea Bocelli, one of the best selling classical music artis with over 70 million CDs sold, and his family came to New York to promote his family's wines.  Since 1881 the Bocelli family has made Italian wine on their estate in Tuscany, and now they are bringing all the wines to the International market.
So the family farm was settled in 1730 by Bartolomeo Bocelli. In the 1930's, Alcide Bocelli, the grandfather of Alberto and Andrea Bocelli, became increasingly serious about expanding the vineyards and modernizing the operation. This work was continued by his son, Alessandro, and Alessandro's wife Edi; and today by Alberto and Andrea Bocelli.
The estate is in Lajatico, Tuscany, which is located in the province of Pisa … and if you watched the Borgias, you know all about Pisa!
Well, there did not seem to be any politics in this family … as you see above, they appear to be fun loving people. And even within sight of dozens of journalists the family seemed to always be laughing and joking with one another.
The wines … the premium wines … were incredible. We tasted six and my absolute favorite was the 2009 Terre Di Sandro IGT, 100% Sangiovese and a pure beam of fresh light delicious cherry. Next to that, I liked the 2009 Alcide IGT 50% Sangiovese and 50% Cabernet Sauvignon.  These are small production wines, from old vines, tenderly cared for and it shows with every sip.
Overall, the winery has old vines (well over 70+ years), and has grown classic Tuscan varietals such as Sangiovese, Canaiolo, Colorino, Malvasia, and Trebbiano, and – with input from their enologist, Paolo Caciorgna – determined that their terroir was exceptionally suited for Cabernet Sauvignon. The Cabernet vines were planted 10 years ago, and are now producing exceptional fruit with distinctive elegance and "cool climate" character. The estate's top wines now contain Sangiovese and Cabernet, and the white wine (primarily Trebbiano) is not exported, and made only for family consumption.
The family estate has approximately 8 hectares under vine, with approximately 20 total hectares for all of their production. Total production of estate wines is about 1000 cases, for all wines, per year.
In 2011, for the very first time, the Bocelli family partnered with other exceptional growers to hand-select some of the best sites in Italy to produce a Sangiovese, what they consider to be Tuscany's most important varietal, and a Prosecco.
The Sangiovese Rosso Toscana IGT is made in collaboration with Bocelli family enologist Paolo Caciorgna, one of Tuscany's most respected winemakers. The grapes are hand-selected from some of the best sites in the famed Morellino area of Tuscany that produce what they call "pristine" fruit that captures the same cool climate character that they enjoy so much from the fruit grown on their small family estate.
The Bocelli family makes the Prosecco DOC in partnership with the Trevisiol family, known as the "first family of Prosecco." The Trevisiol family is the longest running, continuously operated family estate in Valdobbiadene, in the heart of the legendary Prosecco country.
Like the classic estate-grown wines, all Bocelli Family Wines made in partnership are of exceptional provenance. The fruit is meticulously sourced, verified and documented, with only certified, region-borne fruit.
All Bocelli Family Wines are hand-harvested, without irrigation, and use no pesticides or chemical agents.