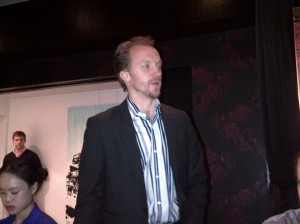 "This is a Chardonnay in a bikini," said Fred Dexheimer MS (or something to that effect), speaking about Gerard Bertrand's Cigalus Chardonnay 2010 ($38.99), a very lush, high priced wine from a producer famed for his lower priced wines, and his daring in focusing on planting varietal-driven wines in the Languedoc. I have been to Bertrand's estate and tasted through his line — the focus is on quality, yet most of the wines are value priced.
Since this wine was so much more expensive than most of the other wines at the tasting, "Dex" explained the difference … namely, French oak instead of chips, longer aging, special parcels for grapes …
It was a very exciting evening, mostly because of the fabulous interaction between Dex and Snooth founder Gregory Dal Piaz whose repartee could be televised for an HBO sitcom about the wine world.
Also (though I am a bit jaded, having been to the Languedoc several times over the years) it was an exciting evening as the Languedoc is still a secret to some people, even wine journalists.
People imagine that it is hot and dry (and it is — in summer, impossible!) yet the best producers (those represented by the wines presented) have found the "secret spots" where the terroir is just right for quality grape production. The Languedoc is an enormous place — just driving to a Michelin restaurant for lunch can take two hours — and virtually every type of soil is represented. Some vineyards are literally just a rockpile. Even on the hottest days, the wind can keep the area cool, which may have explained the refreshing acidity in virtually all the wines.
For many, it is hard to imagine a Sauvignon Blanc (SB) with racy acidity from the Languedoc, yet the Foncalieu "Les Fontanelles" 2011 was full of zesty lime, lemon, minerality and acidity for only $8.99.  The Vignerons d'Alignan du Vent, Cinquante Cinq Chardonnay 2011 was tart and refreshing ($11.99) and though I'm not usually a fan of rose, the Delatour Cuvee Premier Grenache Rose 2011 (dry, $8.99) was very very good … maybe because of the agreeable tannins.
My favorite red was, of course, the most expensive … Domaine Gayda Figure Libre "Freestyle" — a mix of Syrah, Grenache, Mouvedre, Carignan, and Cabernet Sauvignon at $20. Lots of refreshing acidity and cinammon on the nose.
Very fun night. Watching Gregory and Fred chat and laugh as they stood on opposite ends of the long table was entertainment enough — yet they had some much great information about the region and why now is the time to drink varietal wine from the Pays d'Oc.