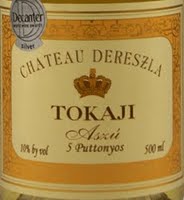 Chateau Dereszla Tokaji 5 Puttanyos
… so last night was graduation night at the International Wine Center … and as tradition has it, former graduates (I was the 2009 vintage) BYOB to I truili for the graduation ceremony. I met one of the grads, Josephine Young, last Saturday at an MW practice tasting hosted by Christy Canterbury.
In any event, I brought the Chateau Dereszla Tokaji 2006 – it was a fabulous dessert wine, sweet yet with racy acidity and a tropical nose of sweet honeysuckle and a very long finish. The brilliant acidity is remarkable … everyone stopped by from the other tables to try it!