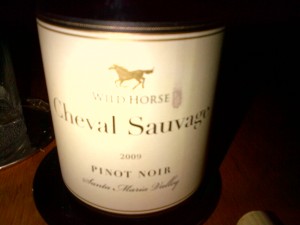 2009 Wild Horse Cheval Sauvage Santa Maria Valley Pinot Noir
"This wine is from Burgundy!" said a friend, blind tasting the 2009 Wild Horse Cheval Sauvage the other night at The Modern. Of course, the gentleman in question is a "super taster" and what he was responding to was the elegance and finesse of the wine. Of course, being a Master of Wine student – and having to blind taste wines all the time – I knew the tiny secret which suggested it was not from Burgundy, but it is rare to find this sort of elegance and balance and purity in a "New World" wine.
As it happens, 100% of this wine was made from the Sierra Madre Vineyard in the Santa Maria Valley. As you might have read about the terroir of this region, it is influenced by fog and coastal breezes from the Pacific Ocean.
Three separate lots of wine from Sierra Madre were fermented in small open top fermentors. The must was punched down 2-3 times a day during primary fermentation, with each lot spending 10 – 14 days on skins to maximize extraction, soften the tannins, and stabilize color.
After pressing, each lot was racked once from tank into 100% French oak coopers to complete malolactic fermentation and then underwent 14 months of aging.
This is a delicate, very delicious wines with aromas of violets and pure berry flavors. Fabulous!