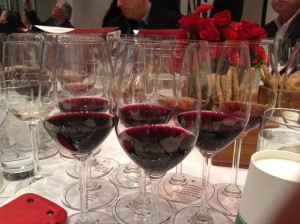 Today was an excellent presentation in NYC of the "50 Great Portuguese Wines Luncheon and Awards Presentation.
The event kicked off with a fabulous 2005 Murganheira Vintage Bruto Espumante Tavora Varosa, that could equal any fine champagne in terms of brioche flavors and elegance paired with amuse bouche of smoked salmon.
Doug Frost MS/MW and Evan Goldstein MS provided a lively commentary on the wines that were paired with lunch, explaining a bit about the excellent producers as well. Doug also explained his methodology for how he chose 50 wines out of the 700 submitted — obviously a difficult choice.
The pairings of pan roasted poussin (chicken) and flatiron beef paired well with the indigenous varietals, and the desert wines — including high end port, paired perfectly with the almonds, cheese and chocolate dessert.
All in all a fabulous shout-out for the wines of Portugal!