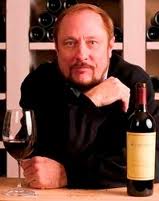 "Don't pick it up!" exclaims Kevin Zraly, acclaimed wine educator and best-selling author to the dozens of journalists sitting in the room, as servers poured the first glass of wine – the Podere Brizio 2008.  "Don't even look at it! Pretend it's not there. We all taste together, that's the rule," he says.
Most sophisticated NYC journalists are not accustomed to being instructed in this way, yet we went with the flow, this is Kevin Zraly, after al, one of the more popular wine educators in the world.
He is here today to present a tutored tasting of Brunello di Montalcino from various producers, first five 2008s and then three 2004s.
Though Mr. Zraly knew most of us in the room (an assembly consisting of the best known wine writers in New York and beyond) and said so, he also said he always had to remind himself that there was usually one person who might be tasting wine for the first time — and that we had to play along.
So with that first glass, we were asked (in wine 101 style) to pick up the glass and note its color. Garnet, was the conclusion. Then we gave it a sniff.  "Three sniffs!" Mr. Zraly ordered, then asking us to make audible sniffs.
"Dusty cherry," said one participant.
Finally, we were allowed to taste the wine, yet before we did, we were asked to make a toast … and then discuss the taste with our neighbor.
We were all good sports about it, and truth be told, going back to the "elementary school" style of observing wine was a bit refreshing.
What was interesting about this tasting was that Mr. Zraly chose the wines himself, and lined them up in a specific order so that the Podere Brizio was the most delicate and ready to drink, with the Paradisone 08 a bit deeper and more mineral, and the Il Poggione a bit more tannic. The last two wines, the Castello Romitorio 08 and Villa Poggio Salvi 08, were the heaviest and needed the most additional aging, with the Castello Romitorio curious with its black cherry and Villa Poggio Salvi with its savory meat like character.
A lineup of 2008 Brunello di Montalcino all with very different tastes and structures.
The 2004s were more mature and seemed to be of diffierent styles. The Podere Brizio 04 was very intense with cherry and spice, while the Sassodisole 2004 had great structure. The Camigliano 2004 had a stewed quality (stewed plums, stewed licorice).
Downstairs dozens of other producers offered their wines … yet as is often the case in New York, too many great wines, too little time. I had to slip out shortly after saying hello to Banfi's Luciano Castiello and trying his 2008 Brunello di Montalcino … very balanced and delicious.
After tasting these wines, my key thought surrounded around the oak. In the past, producers used Slavonian oak and now they are switching it up with French Oak. Added elegance, yet a break from the traditional style? Stay tuned.