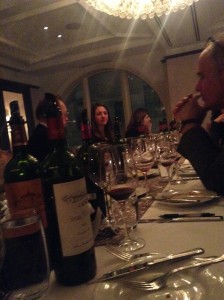 Waiting for the prices to come down on top growth Bordeaux?
Why wait, when you have so many choices of Crus Bourgeois to choose from. Recently Frédérique Dutheillet de Lamothe, Director, Alliance Cru Bourgeois and  François Nony, the fourth generation of a family dedicated to Cru Bourgeois since 1900 and manager for Chateau Caronne Ste Gemme & Château Labat, arranged a dinner party for some Manhattan journalists to discover the different styles of these delicious, reasonably priced wines.
It was a fun, exciting evening as guests tried and compared the different styles, and also tried the wines with a variety of foods. Typically, the wines are less than $20 and are one of the best values in the international market.