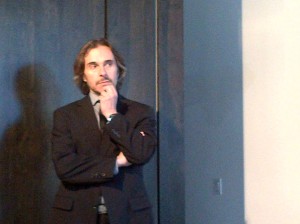 Fabulous tasting with Marco Puyo the other day from Vina San Pedro …. we were focused on the single varietal 1865.
It was a very creatively designed presentation, with small dishes served with each of the four wines presented. The idea was to showcase the single varietal as well as the terroir where it grows.
The 1865 Sauvignon Blanc 2011 comes from the Leyda Valley, which is near the sea and actually had a salty character on the nose and palate.
The 1865 Malbec 2010 comes from the Maule Valley, and spends a year on French oak. What was curious is that even though it is the same vineyard, the wine is aged in barrels from different cooperages. Each cooperage gives a different flavor to the aging wine and are all blended before bottling.
The 1865 Carmenere 2009 had a maceration of one month … it was very smooth and delicious.
"What are the key differences between the Malbec and Carmenere?" a guest asked, since the rich dark fruity flavors can be so similar  According to Marco, the difference is that Malbec is more floral, with red fruit while Carmenere is more spicy with black fruit … especially blackberry.
1865 Cabernet Sauvignon 2010 finished the tasting off, from the Maipo Valley, anged in 95% French Oak for a year.
Very nicely done tasting from a quality Chilean Winery.