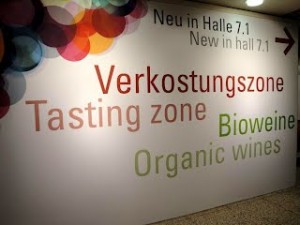 … so of course Prowein 2013 is happening during March 24 – 26, just 24 hours after I finish judging the IWSC in the Napa Valley and five days after a whirlwind tour of the Rhone with Inter-Rhone.
Otherwise, of course I would be there!
With over 4,500 exhibitors, ProWein 2013, International Trade Fair Wines and Spirits, will feature more companies than ever before … not that a human being could even begin to navigate the exhibitors last year.
Two additional exhibition halls will be used in order to accommodate the 500 new exhibitors, giving the more than 40,000 expected trade visitors from the retail and catering sector even more opportunities to discover exciting new wines and spirits. ProWein will take place from March 24 – 26, 2013 at the fairgrounds in Düsseldorf, Germany.
The buzz is that nearly all of the 50 countries represented at ProWein will increase their presence this year. Growth is recorded particularly from France, Italy and Spain but also from Australia, Chile, the U.S. and Eastern Europe. Wines of South Africa will be represented in Düsseldorf with numerous renowned wineries, including 21 new ones.
I will try to make sure that my schedule is a bit calmer next year so I can take advantage of seeing all the best-selling wines in the world (and their representatives) at their top game.