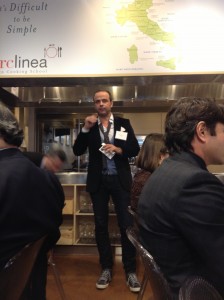 Today is V-Day in NYC and the Consortium for the promotion of Carignano del Sulcis came to visit journalists and the trade in NYC.
Of course, the venue was VinItaly … the "Disneyland" of all things Italian in New York!
It was an event for the press and the trade, with key names in both industries.
I happened to be seated near Salvino Nasello, Managing Partner of Tradizione Imports, who represented Sardus Pater, Is Arenes … these fabulous wines made from Carignano grapes  from Sardinia are hand sold in some of New York's most fabulous restaurants!
Beyond Sardus Pater, four other producers spoke, including Cantina Mesa, Buio Buio, Calsasetta, Tupei, 6Mura, Rossa, and Santadi Terre Brune.
The five wines from the five different producers were each different, with Cantina Messa Buio Buio being the most "naked" wine in terms of no oak and very straight foreward Carignano flavors. One of the more developed wines was Santadi Terre Brune, with its age in 16 – 18 months of French oak.
Each course by the talented chef at Eataly's cooking school underscored one or more components of the wine, including nuances of pomegranate and fennel.
It was a great introduction to Sardinia, and the region of Sulcis which in geological terms is the oldest area of Sardinia. The wines from this region have richness of flavor and finesse that appreciates over time … though I really liked them today! Very different flavors of bright acidity and in some wines, more dried cherries. The contrast, along with the balance between the richness of fruit, minerality, and tannins, made them food friendly for a variety of courses.
The choice of venue, the wines, and the educational material were all first rate and greatly helped understanding of this region.
I hope to see more from this regions soon!