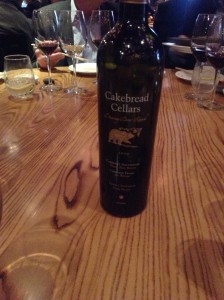 "Happy anniversary!" I say to Bruce Cakebread, who is in Manhattan to showcase his family's wines and also celebrate a wedding anniversary with his wife. I had met his brother Dennis a few years before so I already knew the quality of the wine.
This year, Cakebread Cellars is celebrating its 40 year anniversary, founded in 1973.
So I have #awinestory for today about the incredible good luck to have lunch with both brothers, as well as key members of the Cakebread Cellars team! Imagine the incredible luck of sitting at a round table in the fashionable Nobu restaurant in Manhattan, having access to winemaker vineyard manager, hospitality manager/chef, and tasting through all their wines!
As a #MWBootcamp student, you of course know that I had to ask a million questions (though did so as politely as possible). Just having come from my "mock exam" at the conference in Bordeaux last week, I begged Bruce's indulgence as I deducted clues about the winemaking, such as the percentage of new and old oak on the Sauvignon Blanc, the tiem spent on the lees, the alcohol and various other things that most consumers do not really care about.
Of course, the Sauvignon Blanc 2011 was fabulous, as was the Chardonnay 2011 (barrel fermented), got that right, and the Pinot Noir, very sweet and silky expression from the Anderson Valley. And of course, the Dancing Bear Cabernet Sauvignon 2009 was stunning. We talked a bit about how the family managed to buy the Howell mountain vineyard, and the difficulty of shaping the land.
I had such a great time learning about their various wine clubs and food and wine related programs I hope to visit and give you more details soon! Click this link for a food and wine pairing seminar I went to a few years back.