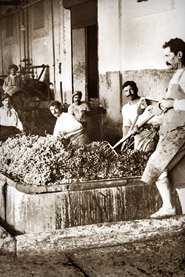 Now here's #awinestory for you! Last night I was lucky enough to have a fabulous dinner — and more importantly some FABULOUS WINE — with Nesti Bajda of Don Miguel Gascon, one of the oldest wineries in Mendoza, Argentina.
Now most winemakers are very nice people, yet Nesti is loaded with that extra jolt of charisma that makes him special among his peers. I've been to Mendoza and it was good to have the opportunity to ask more about the climate, the irrigation issues, and the key question of what makes one producer's Malbec better than another's …
"It is all about quality," says Nesti, which happens both in the vineyard and in the winery. As most wine professionals know, even though most sophisticated cellar techniques can not make up for sub-par grapes, so ripe healthy grapes are key.
Nesti's blend of charisma and passion for winemaking are mesmerizing.
He was a panelist at the First International High Altitude and Winemaking Symposium in Lake County, California, in 2007, where he presented research on the effect of varying altitudes on Malbec grapes and wines.
… so beneath the smiling and charming surface, his inner geek emerges.  He earned his degree in Agricultural Engineering, with specializations in viticulture and oenology from Universidad Nacional de Cuyo in Mendoza,
Argentina. He also has unique knowledge of the infrared aerial photography and GPS positioning equipment used in vineyard mapping and vine homogeneity analysis.
Oh, and he also has the pedigree … joining Bodegas Escorihuela Gascón in 2008 to lead the winemaking team at a new, high-tech facility, where Don Miguel Gascón Malbec is crafted. He previously worked two vintages as an assistant to Alejandro Vigil, Catena Zapata's head winemaker, and two vintages as head winemaker for Bodegas Esmeralda. He also worked closely with renowned winemaker Paul Hobbs on a Super Malbec that was released in 2010.
I really enjoyed exploring Malbecs with Nesti, and he very gracefully answered questions about winemaking techniques, yet more importantly, step by step the factors that distinguish a "quality" Malbec from competitors.

About Mendoza
If you have not been to Mendoza, it is a mountainous province at the foot of the Andes Mountains along the wester edge of Argentina.  The high altitude allows for intense sunlight that produces fruit with thicker skins. And it's those thick skins that deliver that deep color, body, aroma, and structure.
Don Miguel Gascon 2011 Malbec
This wine is a gorgeous black purple color, with aromas of blackberry, plum, and a hint of mocha. It's elegant structure allows for tannins just bordering on plush, and not overly so. According to Nesti, this "balance" and sense of structure is what separates all the different producers of Malbec.
For example, I'm sure you've tried some Malbec too sweet or too jammy … it's finesse and balance that separates high quality Malbec like Don Miguel Gascon from the others.
After hand harvesting, the grapes underwent cold maceration for three to four days for color, then the juice remained in contact with the skins for three weeks for optimal flavor development. Primary fermentation occured at 85F for six to seven days. No oak.
Don Miguel Gascon 2010 Reserve Malbec 
The 2010 Reserve is even sharper and more distinctive with dark blackberry flavors, some well integrated spice, and flavors of plum, black cherry, and hints of chocolate and vanilla from the French and American oak. It has finesse, length, intensity of fruit, and lots of complexity – a great wine to pair with steak at a high end dinner (though it paired very nicely with my fish).
The grapes were hand harvested, crushed and soaked for 72 to 96 hours prior to yeast inoculation, and the juice in contact with the skins for up to three weeks before fermentation. The must was then fermented in upright conical tanks at a maximum of 85 F for six days. Malolactic fermentation was completed prior to racking and barrel aging in a combination of French and American oak for 15 months.
 History of the Winery
In 1880, at age 19, a young entrepreneur named Don Miguel Escorihuela Gascón, arrived in Argentina from Aragon, Spain. Upon arrival in Buenos Aires, the penniless but sharp-witted Gascón worked hard and soon established his reputation as a savvy businessman.
The national railroad had just connected Mendoza, a high desert region in the far west of the country, with the port cities on the east coast. Gascón, who was raised in a family of farmers, envisioned a new opportunity for winemaking in Mendoza. After relocating to Mendoza, he purchased 42 acres of land for planting vineyards. By 1884, he began to build a winery near the center of town.
The Gascón winery opened in 1888 in Mendoza, the same place where it can be found today. For more than 100 years, the Gascón family kept the winery in hand, developing a proud heritage and a reputation for wines with both intensity and elegance. In 1993, they sold the winery to a group of investors led by the Catena family, one of the most famous names in modern Argentine winemaking.
All About Malbec
There are more than 400 names for Malbec, synonyms with very local applications, which can be seen as a reflection of the vine's adaptability or as a sign of its unpredictability.
The name Malbec (also Malbeck or Malbech) in one story is traced back to a Hungarian peasant who may have brought the vines into France several centuries ago.
Long used as one of the five blending grapes in the red wines of Bordeaux, Malbec is difficult to ripen in cold years there, and is susceptible to damage by mildew and other "pressures" that may infect damp, densely planted vineyards.
In the Cahors region of southwest France, Malbec produces a more robust vine and is often vinified on its own. Known as the "black wine of Cahors" because of its very dark color, this Malbec can be offered as a varietal wine or used to add body and color to other blends.
The invasion of Phylloxera in French vineyards in the 19th Century greatly diminished the amount of Malbec planted there. The vine seems particularly sensitive to pests and disease. The "great freeze" that struck France in 1956 was another blow to Malbec. Frost killed 75 percent of the Malbec in the Medoc region, and growers replaced those vines with varieties which had more value in the marketplace.