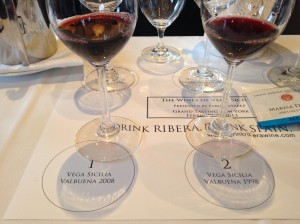 So today Pablo Alvarez Mezquiriz, Consejero Delegado of Bodegas Vega Sicilia, gave a fabulous tutored tasting of his wines including the Vega Sicilia Unico 1981, 1994, and 2004 along with the Vega Sicilia Unico Reserva Especial made from the three best years: 1990, 1996, and 1999.
We also had a chance to try the Valbuena 1998 and 2008.
What was interesting about this tasting is that the "aged" wines showed so very young. The color was rich garnet, and quite intense, with very little fading at the rims. If anything, the power and intensity of the older wines was even more prominent. Shot through all the wines was a beam of pure cherry fruit, minerality, and in the older wines a sense of leather and dust.
What was also notable was the "cherry ice cream" creamy texture … possibly from several years of aging in French and American oak.
In the main tasting room of the Mandarin Oriental hotel, several producers offered excellent examples of Ribera Del Duero wine, which is mostly made from Tempranillo. The law says it must contain 85%, yet most producers used 100% and aged the wine in mostly French oak.
Really nice showing of these absolutely delicious wines!