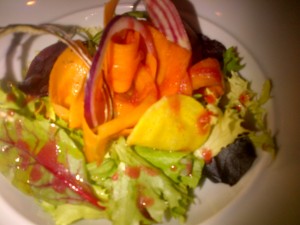 See this salad? It is a work of art. I am at the Five Senses restaurant in Avignon and this restaurant is a real find …
… the meal starts off with a selection of hors d'oeurves, followed by a choice of different menus …
One of the fun things was choosing my first wine for the #DVR2013. I tried the Domaine de Boissan Sablet 2010 and then the Domaine du Moulin Vinsobres 2010.
The wines were dramatically different … the Sablet a lighter color, and more perfumed, and the Vinsobres darker and more tannic.
I can't wait to discover more and meet the winemakers when the festival starts tomorrow!
Do you have a #awinestory?