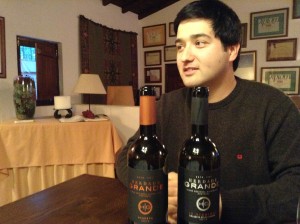 "Welcome," says resident enologist Ricardo Carvalho with his wide, warm smile. We are inside the very home-like tasting room of Herdade Grande, a small winery in Alentejo.
Lining the walls are a variety of awards the company has won over the years. The Lanco family has owned the 350 acre property for over a century, producing both wine and olive oil. The family's goal is to produce 400 thousand bottles of wine for the domestic and export market and produce various styles.
We begin the tasting with the Monte Das Talhas brand , the red from Argonez, Alfrocheiro, and Trincadeira and the white also a blend.  The wines are aimed for the value market yet display elegance on the nose and palate with structure and a crisp dry finish. A step up the quality level is the Condado Das Vinhas brand (both blends from the same grapes), and then the Colheita Selecionada (specially selected grapes) until we read the reserve red and white, which are both aged in American and French oak for over eight months.
Ricardo has recently graduated from enology school and has done many stages at wineries around the world. He is new to Herdade Grande and we hope to see some of his awards on the wall soon.