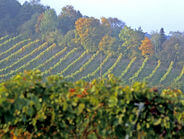 Very happy to report I will soon visit Austria, and that means "free reign" to indulge in my passion for sweet wine without guilt. After all, I'm a journalist – I have to taste it, right?
Austria has a very long history of sweet wine … and during the European Blogger's conference in Bressia a few years back, we had this fantastic tasting of all the different varieties of Austrian sweet wine styles.
It was like a treasure chest with sparkling jewels of every type!
I'm not sure how far the MW program is going to go in terms of having us identify them by name (which are very long) yet even though that tasting was a few years ago, I still remember the surprising flavors, some of them I described as lime or orange sherbet in their flavor range.
Also, in 2011 while attaining my Fine & Rare Wine Specialist Diploma at Palais Coburg, I remember picking botrytized riesling grapes in the rain and later that day tasting Ausbruch wines …
… in any event, the below paragraph from the wines of Austria website gives good color about the history … and a quirky story about boiled pebbles being added to small barrels of wine to prevent oxidation!
From the site … 
Noble sweet wines in Austria have a remarkable, extensive history. Already in 1526, the first Trockenbeerenauslese was produced in the Pannonian region. At the von Leisser baronial estate in Donnerskirchen, a large amount of shrunken, raisin-like berries were harvested and pressed to an excellent wine. More than a century later, in 1653, Prince Paul Esterhazy together with Baron von Leisser acquired this same wine and had it refilled into small barrels. Whenever the wine was served – especially at noble festivities – boiled pebbles were added to the barrels so that their contents would once again be full; this was done in order to help prevent the remaining wine from oxidising. The last drops of this wine were tasted at the Burg Forchtenstein castle in 1852: for no less than 326 years, generation after generation of wine lovers were able to experience the pure pleasures of this legendary Prädikatswein.