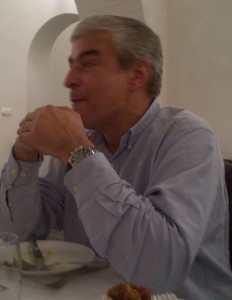 Dinner with Luis Duarte  
"Why do you smile so much?" Luis Duarte's mother often asked himas a child. Though in the picture above he appears rather reflective, Luis Duarte has a very engaging, energetic personality as belies a winemaker who has won Portugal's "Winemaker of the Year" not once but twice (1997 and 2007) when he spent 18 years working with David Bavenstock at the world-famous Alentejo based winery, Esporão.
"I was a kid when I started," Luis recalls, remembering his first weeks at Esporão. "The winemaker at the time was quite elderly, and soon was hospitalized. Though he was quite ill, the first thing he would ask was how the vines were doing."
Today, after that near two-year stint at Esporão and dozens of other international wine awards, Mr. Duarte is now his own boss, consulting to Portugal's top wineries and producing his own label.
The wines are the typical Alentejo style blends, yet quite elegant and complex. The 2011 Rubic White made from Viognier, Verdelho, and Antao Vaz is quite excellent, made from wine partly fermented in French oak barrels and aged for six months. We also try to 2011 red blend of Touriga Nacional, Argones, and Trincadeira – very smooth and balanced from the nine months in French oak with a firm structure.
Given the fact that Mr. Duarte is so elegant and seasoned, structured in the way he discusses wine yet at the same time easy going and approachable, I wonder if it's true that winemakers make wine as extensions of their own personality. These wines have a handcrafted feel about them, possibly from the TLC (tender loving care) they receive from the French oak barrels.
Mr. Duarte exports his wines to a variety of countries … he can be contacted below.
Monte do Carrapatelo | Apartado 108 | 7200 – 999 Reguengos de MonsarazT.917 235 359