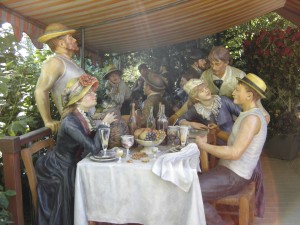 In the Southern Rhone …
Does the concept of G-night sound rather suggestive? Here in Avignon during #DVR2013 "G" stands for Grenache, and tonight I am going to a party where I am sure to see wine loving friends from all around the world.
In any event, the weather is gorgeous and sunny yet I am in the tea-room of the elegant Le Mirande hotel writing and reading about the Rhone
Grenache gives high alcohol wines that are usually low in tannin and color, with flavors of spiced red berries, especially strawberries.
The fruit character can be baked, jammy, or burnt.
I will see if the fair offers any single variety Grenache, yet usually the red wines in the S. Rhone are a blend of Grenache with Syrah, Cinsault, and Mourvedre.
Syrah and Mouvedre provide the color and tannins, and though Cinsault is low in tannin, it offers fruit and acidity.
The whites are a blend of Clairette, Grenache Blanc, Bourboulenc, and others, including blends of Viognier, Marsanne, and Roussane. New oak is rarely used and the whites are fat, full bodied, high in alcohol, with low acidity.
Winemaking
The many different regions that make up the S. Rhone, combined with the different styles of producers, make for wines of many different flavor profiles and different winemaking techniques.
One style is fresh and fruity (especially with carbonic maceration) – this technique is used even in Chateauneuf-du-Pape to make a wine lighter and tannins for earlier drinking.
Cotes du Rhone AC accounts for more than 80 percent of the region's production, much made from cooperatives.
A number of villages can call their wines Cotes du Rhone Villages AC – to qualify minimum alcohol and maximum yields must be respected. There are 16 individual villages, with Beaumes de Venise and Rastau having a separate AC for their Vin Deux Natural.
Red Wine Production
Typically before fermentation begins, the grapes are destemmed, crushed, and refrigerated between 5 – 15 C for 3 – 6 days for a "cold soak" for extraction of bold fruit aromas.
Fermentation and simultaneous maceration runs 7 – 15 days though it can last 20 days). During this time the juice is extracting tannin, pigment, and flavor compounds from the skins. The length of skin contact depends on the ripeness of the grapes and desired style, with longer skin contact with wines designed to age.
After fermentation, the free run wine is racked, the skins, pulp, and seedsd are pressed with the liquid separated from the solids. the press-wine is usually combined with the free-run wine.
During the festival, I am going to ask the producers about destemming. Historically stems were included in the fermenting vat of grape must. But studies have shown that stems absorb acids and sugars in creating a wine that is lower in acidity and alcohol that it would otherwise be. Stems also contain water that may dilute the must as well as condensed tannins that can result in astringency. As a result, some producers are eliminating stems, though traditionalists still retain some depending on the year.
Likewise, some producers co-ferment the varietals, claiming it adds greater complexity, while others ferment and age separately, blending in the end.
Another benefit is that the elevated alcohol generated by Grenache permits better color extraction from Syrah and Mourvedre.
Syrah is also reductive while Grenache is oxidative. By co-fermenting, th vigneron creates a symbiotic relationship resulting in greater harmony and complexity.
Finally, by co-ferementing Grenache and Cinsault, the finish gains a velvet texture.
Other grape varieties may be added into the initial cuvees after separate harvests and vinifications.
At times Syrah may be matured for a short time by itself in small barrels – I will try to find examples of this.
Most producers feel that the earlier the final blend is crafted, the better the wine.
The parcels of young wines are often fermented separately from the fruit of older vineyards, so that producers can create more distinguished bottlings such as "vielles vignes" or a special cuvee.
Malo-lactic fermentation is standard in the red wines – it softens the wine, increases stability, and adds a level of complexity.
Maturation of Red Wine
Most red wines are aged in concrete, inox, of large wooden barrels called foudres. Traditionally concrete was good for maintaining a stable temperature after fermentation is complete, as it retains warmth in the chill air, aiding malolactic fermentation.
Now
Chateauneuf du Pape