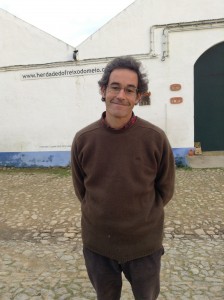 Fabulous visit to Herdad do Freixo do Meio, one of the only certified biological wineries in Alentejo which is also "uncertified" biodynamic. It is really a farm that manages 650 ha of land, of which wine is only a small part.  Paulo Cunhal and his brother Alfredo (above) grew up on the farm, and when he was a small child it was taken over by the people under the dictatorship of  Salazar. Hard to believe but the people just came to the farm and told the family to get out.
In the fullness of time, the farm was returned to the family … yet as adults, the brothers had a different vision of what the farm should be. They decided to become "biological" and work the farm as an ecosystem, with various parts supporting other parts (a simplistic example is an acorn tree feeding the black pigs, and using the manure to nourish the grape vines).
We go for a walk to the vineyards … a strange sensation for a wine writer accustomed to seeing vines instead of pigs and horses, as the vineyards are a small part of the farm. In the tasting room (a converted old barn) we taste the wine. The brothers try to use as little preservatives as possible and the wine tastes fresh and delicious. As we taste, visitors (through prior arrangement) stroll inside the barn on a tour.
I feel very much a city girl as I taste this wine, with the vineyards just a few hundred feet from me, and taste the cookies that have been made from acorns grown on the property, and the potato chips also prepared from potatoes grown here. In fact, everything is made right here – meats, wool, cork, soap …
The farm is actually in an oak plantation managed by what is called a "montado ecosystem" which allows them to produce all these products as well as offering education and services. People can talk a walk on their marked route, bike (people must bring their own), and buy products for a picnic on the property.