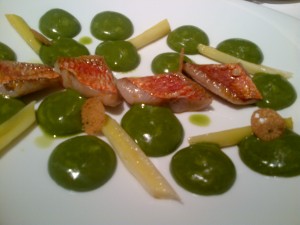 So I was finally able to visit La Dame de Pic in Paris … in October they were full. The restaurant has an open kitchen and an intimate dining room …
One of the more interesting elements is that the server presents guests with an "aroma" card with words like "spice" and "floral" on it, along with a corresponding aroma. The idea is for the guest to choose the aroma that is most appealing, and then go with the corresponding four course menu.
"It doesn't always work out that way," the server explained, saying that guests usually choose the most appealing menu.
As you can see from the above photo, presentation is fabulous – the flavors are incredible, and though I never eat dessert it was really one of the best parts of the meal.
We had to zip out early to take the train to Avignon and #DVR2013 – I enjoyed a Monthelie 1st cru 2010 from Le Chauve and at the suggestion of sommelier Giovanni Curcio, Nuit Saint Georges Domaine de la Perdix 08 which was well structured but a little too early to drink.