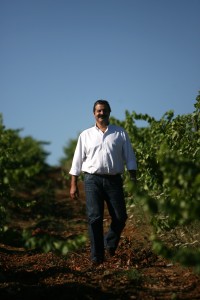 "I believe in wine with terroir, and I believe in wine that has a story behind it," says Paulo Laureano with a smile in his cheerful Australian-accented English, as I walk inside the BL Lounge restaurant. It is a modern, yet laid-back place in the wine resort town of Evora, with a sleek looking bar in contrast to the more traditional restaurant white-washed walls and a wooden beam ceiling.
With his walrus mustache and cheerful smile, Paulo is instantly recognizable from his pictures in scores of magazines. His friendly, low key demeanor belie his ranking as one of the most prestigious enologists in Portugal, a champion of the native Portuguese grape varieties. Paulo is the kind of man you like immediately – whether a natural result of being an entrepreneur and having to sell thousands of bottles of wine each year, or a natural charisma he's had since birth I am not sure.
What I DO know is that he is a natural storyteller, and he quickly draws me in before the first sip of his wine with his remarkable history.
Many successful winemakers in Alentejo have been born to winemaking families and inherited their land, yet Paulo – who hails from a military family – is a self made man.  He majored in agronomical engineering and after doing a "stage" in various winemaking areas in the world (including Australia) to learn their techniques, set up his own wine label.
Paulo easily segues from one entertaining story to the other – all amusing anecdotes about his wine of course. My favorite story is the one about the first wine we try – a delicious 2011 white wine made from 100% Antao Vaz.  Single varietals are very rare in Portugal, yet appear to be a new trend with many of the top producers launching single varietals and also single vineyards for both the domestic and export market.
In any event, this wine (with the grapes coming from Schist-based soil) was barrel-fermented in new French oak and aged an additional five months in the oak, with batonage (lees stirring) to give it richness and texture. Though I typically prefer red wines to white, this is really fabulous … and can easily rival the best cru Chablis. Paulo tells me the wine won an important airline competition and I can see how with its handcrafted elegance.
The second wine we drink is produced only in exceptionally good years. It is a 2011 called Dollum Escolha which means "amphora" (the ancient clay wine-making vessel) and made from 35+ year vines. It is also 100% Antao Vaz. The grapes are left in the press for an hour to gain some flavors and color from the skin, then pressed with oak maturation for eight months with batonage. Tropical fruits, tangerine skins, and a touch of spice.
Though Paulo makes wine in three quality levels, he strongly feels that it is important to focus on the quality of the lower priced "entrance" wine as it is the gateway to his range.
We try the first red, which is made from Aragones, (the same grape as Tempranillo in Spain, sometimes spelled Aragonez), Alicante Bouchet, and Trincadeira., with the wine aged in second use French barrels. Delicious and very elegant. The second wine is a surprise as it is made from Tinta Grassa, an ancient variety he accidentally discovered growing in his Vidigueia vineyard. It is delicious and packs a spicy yet elegant punch. The last red wine is a 2009 Trincadeira, very rich and spicy. We finish off the tasting with a fine Port from the restaurant's wine list.
Paulo currently exports 800,000 bottles mostly to the popular export countries of the United States, UK, Brazil, and Angola, which was a former Portuguese colony.  In addition to selling his own brand, his goal is to "sell Portugal" – its landscape culture, and biodiversity
"My father always had wine at the table," Paulo tells me, explaining how he got into the world of wine.  In addition to making wine he also gives lectures on wine at the local university, with many of his students going off to launch wine-related careers of their own. A fabulous visit to a very charismatic producer.