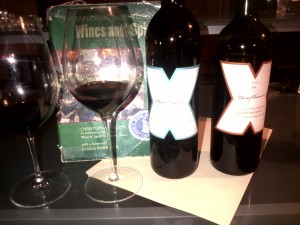 Okay, so several weeks ago I was at my neighborhood wine shop and wanted to test the "new guy" out on his recommendations.
"So what is a great Rioja about $20?" I asked.
He recommended the Xavier Flouret Fe 2005 (the X on the right).  So being the MW student geek that I am, I promptly tasted the wine, made notes, looked up the winemaking methods, and soon found myself in contact with lively owner/winemaker Loli Casado, who emailed me excellent answers to my questions.
I liked the wine alot … It was a 2005 yet had the elegance of a 2004 or a 2001 – both great vintages, with great balance between the spicy, firm tannins, bright acidity, and pure beam of strawberry fruit. The finish was med+ with a streak of minerality. As we are taught to think as MW students, "what is in this glass that makes this Rioja?"
The sweet tannins, evidence of oak aging from notes of vanilla and coconut, the integration of ripe red fruit, acidity, and oak … these words can describe a number of wines (especially when similar tasting wines are lined up together blind) yet this firmly says "Rioja."
Curious to contrast it to another region, I was able to get a Xavier Flouret Ribera Del Duero … the Pavo Real 2007 from Bodegas Santa Eulalia.
Xavier Flouret buys certain wines from small wineries around the world and sells them under his familiar "X" label.
I was curious to taste the "real differences" in expression between tempranillo from Rioja and from Ribera Del Duero.
So how do they compare?
Just going from what I am tasting in the glass, the Ribera Del Duero is darker, more dramatic, and intense, with focused, concentrated notes of black licorice and very concentrated ripe black fruit. Think coffee grounds and best quality black licorice with a touch of exotic vanilla and you may sense the flavor.  In an MW style blind tasting, I can almost imagine it being paired with a cru classe St. Emilion Merlot. It is an intense, delicious, more "masculine" style of wine that can go great with a flat iron steak.
According to the tech sheet, the soil is alternating layers of limestone, marl, and chalk. Lots of sunshine and low rainfall.  Vines are 32 years which may account for the fruit concentration.  It is 14.7 alcohol.
Now the Rioja Fe 2005 is lighter in color and in contrast, more feminine on the palate … like a person who enters a room and very graciously introduces themselves as opposed to a powerful individual who enters a room and immediately takes command. Technical notes suggest the vines are planted chalky clay soil with cool temperatures and 500 liters of rainfall, with a mix of Atlantic and Mediterranean climates. Hand picked grapes from 60 to 80 year old vines.
I have yet to correspond with winemaker Nuria Pena Albillo from Bodegas Santa Eulalia, yet the wine is aged in oak barrels for 14 months and on the lees and in bottles for over 12 months.
Lola Casado, owner and winemaker, was kind enough to email me answers to my questions about vinification.
Thank you so much for your words about our wine and your interest in our winery.
It has been a pleasure reading that you find our wine fabulous. We are proud of our job and to know that there are people who like it makes us feel so good.
Replying to your questions, please find below our comments:
1)
Graciano and Mazuelo go with tempranillo, as they are mixed in the vineyard where the vines are planted (this is a vineyard planted by my grandfather, and in those ages, the coupage was done in the vinyard), as they are historical varieties in Rioja Alavesa, as well as Garnacha. The graciano variety gives above all acidity. 2)
30 minutes is the maximum time which takes to bring the grapes from the vineyard to the entrance of the deposit. This way we avoid an excess of oxidation in the must. The oxigene could prejudice the sharpness of the final colour. 3)
The old vineyard where the grapes are planted, produces per hectar about 4.500 kg., so the quality and maduration grade is positive in all the vintages. Anyhow, only in the vintages we appreciate a good evolution, we decide to keep for Reserva and Gran Reserva. 4)
The harvesting / picking is always manual, and with the same employees for 12 years. This makes that we select the grapes in the vineyard, withdrawing those bunches, which have not a suitable appearance. 5)
In the ageing of the wine it is combined the staying in a new oak and up to maximum 6 year old oaks. After that, the barrels are removed. 6)
Currently, we use commercial yeast, which assures us every year that the alcoholic fermentation is being controlled, and this way, we avoid stops in the fermentation process.