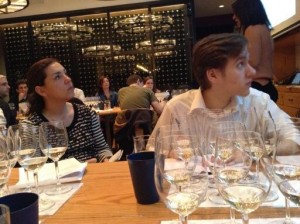 What a fabulous time today at Corkbuzz! Imagine this, a Vinho Verde tutored tasting featuring some of its blended whites, single varietal Alvarinho, and even a red and rose.
Laura Maniec, owner of Corkbuzz and key member of the Guild of Sommeliers, represents the region in America and gave a fantastic lecture about the climate, terroir, and the grapes. JoLynn Howe of RF Binder also generously provided the wines …
… so what were the key points?
1. Producers are modernizing techniques in the vineyard and cellar.
2. The wines (at least what we sampled) were delightful, the whites crisp with refreshing high acidity. Many of them were fruit led (according to what I heard at the MW seminar, the word "fruit forward" is out) with flavors of ripe peach.  Some of them could indeed be mistaken for Riesling from the Rhinehessan with their minerality, high acidity, and surprising notes of petrol and roses.
3. At 10 to 20 dollars a bottle, these wines are great values and perfect for a "by the glass" program.
I asked Laura if there was a real difference between Albarino from and Alvarinho, and the answer was that if there was a difference that can be discerned, Albarino might have slightly more alcohol.
In any event, I have not been to Vinho Verde yet I was in Alentejo and visited producers for a week. You can read about my visits here, or the article that was published on Palate Press.