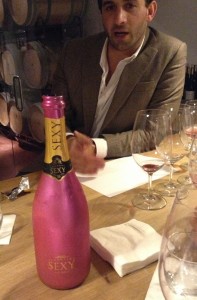 "Sexy Red!" I exclaim, almost laughing, as Antonio Macanita, winemaker and partner (and fabulous marketer!) at Fita Preta wines shows off a sparkler dressed neck to base in bright pink foil, with a gold foil neck that says "Sexy!" in big black letters (it also says the name two more times on the front side alone.
"Very attractive," I remark, as pink and gold are every girl's favorite colors. "Yet do you think customers would take it seriously?"
That, according to Antonio, is the whole point.
Welcome to marketing 101 in the wine world.
"I pour this wine at fairs all the time," Antonio explains. "Often enough against sparklers with 'serious' labels and even fine Champagne. At the end of the day, I ask people what wines they liked best. More often than not, they have no idea about the name. No one ever forgets Sexy Red!"
I take a sip of the wine and to my surprise, it's very good … made from the usual red Portuguese varietals and refreshingly dry (5 grams RS/L) and restrained with racy acidity.
It is, in fact, a very good premium wine (it sells for just under $20 in the US market) …
… and according to Antonio it is a best seller (Antonio is such a sharp marketer I have no doubt he would continue anything that did not sell well. Yet at the same time I can't help but laugh when I think of what a suggestive statement it might make if a man orders it on a first date …
Either way, Antonio has a great point, people REMEMBER the brand in a world where labels all seem to blend together. And it IS fun. One can imagine the friends on the TV show Sex in the City ordering it poolside, or the characters from the HBO show Entourage. The sparkler is also available in a white blend and is also dry and delicious.
Enter the Fita Preta winery and the first thing you notice is the gorgeous citrus trees – especially the brightly colored oranges the size of baseballs that hang tantalizingly from the tree, as if beckoning a human fist to grab them and take a bite.
The second thing you notice are the grounds, which are neat and from what I have seen of Portugal, a classic style with lots of stonework.
Step into the winery (with its modern glass double doors) yourself and at once you inhale the enticing warm scent of new oak barrels and maturing red wine. It is a bit cold and grey outside so being in the gorgeous spotless barrel aging room is quite welcoming.
Here, the very agile Antonio jumps like a gymnast atop of barrels to siphon out a taste for us. Even at this early stage, the wines are balanced and show every sign of an excellent maturation.
The history of the winery is quite interesting … Antonio and his late partner David Booth founded the winery in 2004, with no vineyards, winery, or capital (the current winery is leased). At the time Antonio was a consultant to several well known producers. The pair attracted the attention of many critics, including Jancis Robinson
The wine speaks for itself … beyond the "Sexy" brand (both sparkling and still) you will find the Palpite brand (which means intuition in Portuguese) white and red blends, both very rich and complex.
For Antonio fruit purity is key, and he is a self described "gravity freak" meaning that he prefers gravity to the harsher pumping to move along the grapes and must. A very interesting visit to a producer who is going places.