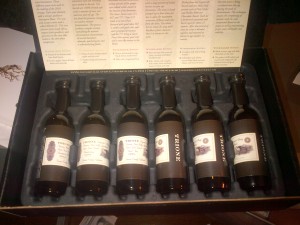 Wow, what a great idea from the folks at Trione in Geyserville, California.
I received this "mini box" of "mini bottles" of wines including 2007 Alexander Valley red, 2007 Alexander Valley Cabernet Sauvignon, 2008 Russian River Valley Syrah, 2008 Russian River Valley Pinot Noir, 2008 Russian River Valley Chardonnay and 2010 Russian River Valley Sauvignon Blanc.
The wines were incredibly well made and it was interesting and practical to have these mini-samples. Winemaking notes were detailed, indicating lots of tender loving care in the vineyard and winery including hand harvesting and aging in 100% French oak, much of it new.
You can learn more at the Trione website