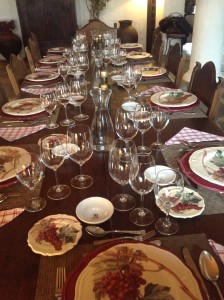 "A pink marble spitoon?"
 I am here, standing in the very comfortable and warm tasting room of the J. Portugal Ramos winery in Alentejo, with export manager Maria Pica, a woman with a vibrant, almost electrifying personality that seems to match her curly black hair. Outside the weather is a dismal grey, yet inside the tasting room it is warm and inviting. A long wooden table is set up for the lunch to come, where I will be able to meet other members of the winemaking team and Mr. Ramos himself!
When Maria turns to address the questions of a young Russian importer tasting through the wines, I am struck with the idea that the behind the scenes action I've observed in just five minutes could make a fabulous TV program, perhaps something between the 1980's miniseries format ("Dallas") and today's "Shahs of Sunset" type reality shows.
"Ready for the biological vineyard tour?" smiles Maria, whisking me off to the van. The biiological vineyard has just been planted, with plastic casings protecting the young vines from rabbits. A significant outlay of cash has been spent on the project, and I am eager to return in a few years time and taste the first vintage of wine.
Founder Joao Portugal Ramos came from a winemaking family and studied to be an eonologist (or agronimical engineer (as they often call the profession here).  After training at the National Viniculture Studies Centre in Dois Portos, he established a consulting company called Consulvinus and worked with many Portuguese wineries to improve quality, ultimately earning acclaim for both himself and the country's wine.
In 1990 Mr. Ramos started his 'personal project' by planting the first 5 hectares of vineyards in Estremoz (inside the Alentejo regiion) and in 1997 built the winery where we are standing today (the company also owns a winery in the Duoro for Port production).
During the winery tour I note the juxtaposition of gleaming stainless steel tanks, vanilla-scented French new oak wooden barrels, and traditional lagares made from pink marble. Mr. Ramos believes in using materials from the area, and apparently there is a lot of pink marble around. In any event, the lagare (a shallow, rectangular, space that looks like the base of a public square fountain and is used by Portuguese producers to gently crush the grapes by foot) is so decadent and gorgeous it is easier to imagine a Turkish harem using it as a bath than to imagine its use by men stomping grapes.
Mr. Ramos, I hear, believes in using a lot of materials from the area in his winery … even the winery floor is made from the area's granite.
In the tasting room, Maria shows me the lineup of wines, starting with the fresh and aromatic Vila Santa Reserva White 2011 (typical blend of Arinto and Alvarinho with Sauvignon Blanc), easy drinking Loios Red 2011 (Aragonez, Trincadeira) and a single varietal of Aragonez (tempranillo) Vila Santa Aragonez 2011 which spends six months in small new French oak barrels.  The 2011 single varietal Trincadeira and Syrah are vinified in the same way and they are all delicious.
Tons de Duorum Red 2011 is made from a blend of Touriga Franca, Touriga Nacional, and 20% Tempranillo and aged in second and third year French oak barrels for six months – very elegant. My favorite was the 2011 Marques de Borba Red 2011, made from the traditional blend of Alicante Bouschet, Aragonez, Touriga Nacional, Syrah, and Cabernet Sauvignon. It is aged in second year small oak barrels – very intense with great concentration.
During lunch, I had the honor of meeting Mr. Ramos himself and placed by his side. His surprising movie star looks (he could easily play any of Richard Gere's roles) are equal to his charm, and he is an excellent ambassador for not just his wines, but for his country. Throughout the sumptuous lunch, he brings out different vintages and different wines and suggests what wine/vintage would pair best with what dish. Beyond that, he has what appears to be a natural sense of gastronomy, and encourages guests to add a specific vinegar to one of the traditional soups we enjoy as a first course. The company also makes their own olive oil, and produce Port in Oporto.
The TV/reality aspect of the visit thickens when I discover that export manager Maria Pica is married to vineyard manager Joaquim Faia (yes, they met at the winery), and that the attractive blonde woman across from me is Mr. Ramos' wife Teresa. That's where the similarity ends however, for the Ramos family and its employees are all very serious about what they do and dedicated to introducing the world to their wine and the wines and foods of Portugal.